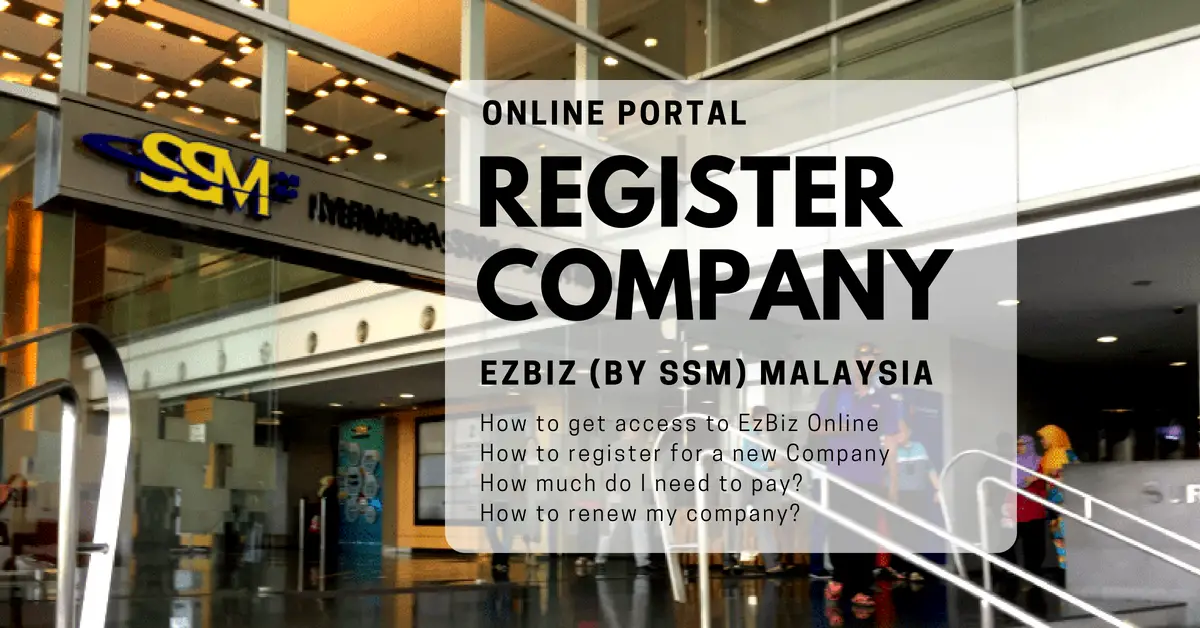 Do you have a company or business in Malaysia? Have you registered your company under SSM? Most of us are giving excuses like we don't have time to visit the SSM office. How about online registration? Is it possible?
Yes, it is possible to register your company in Malaysia online via the ezBiz portal by Suruhanjaya Syarikat Malaysia (SSM). Now, you may visit the SSM office for the ezBiz account activation or do it online.
You might be interested to read How to Register a Company in Malaysia with SSM (Step-by-step Guide). In this article, we explained in details the 5 steps required to successfully register a Sole Proprietorship or Partnership business in Malaysia.
If you are planning to register a Sdn Bhd Company in Malaysia, read our article on How to Register Sdn Bhd Company Online in Malaysia.
What is ezBiz?
ezBiz is an official online business registration portal provided by Suruhanjaya Syarikat Malaysia (SSM) to allow the user to do new business registration, changes in business particulars, terminate and purchase business information. It is an alternative way of "over-the-counter" transactions which is simple, quick and hassle-free. ezBiz is available 24 hours a day, 7 days a week by accessing ezbiz.ssm.com.my.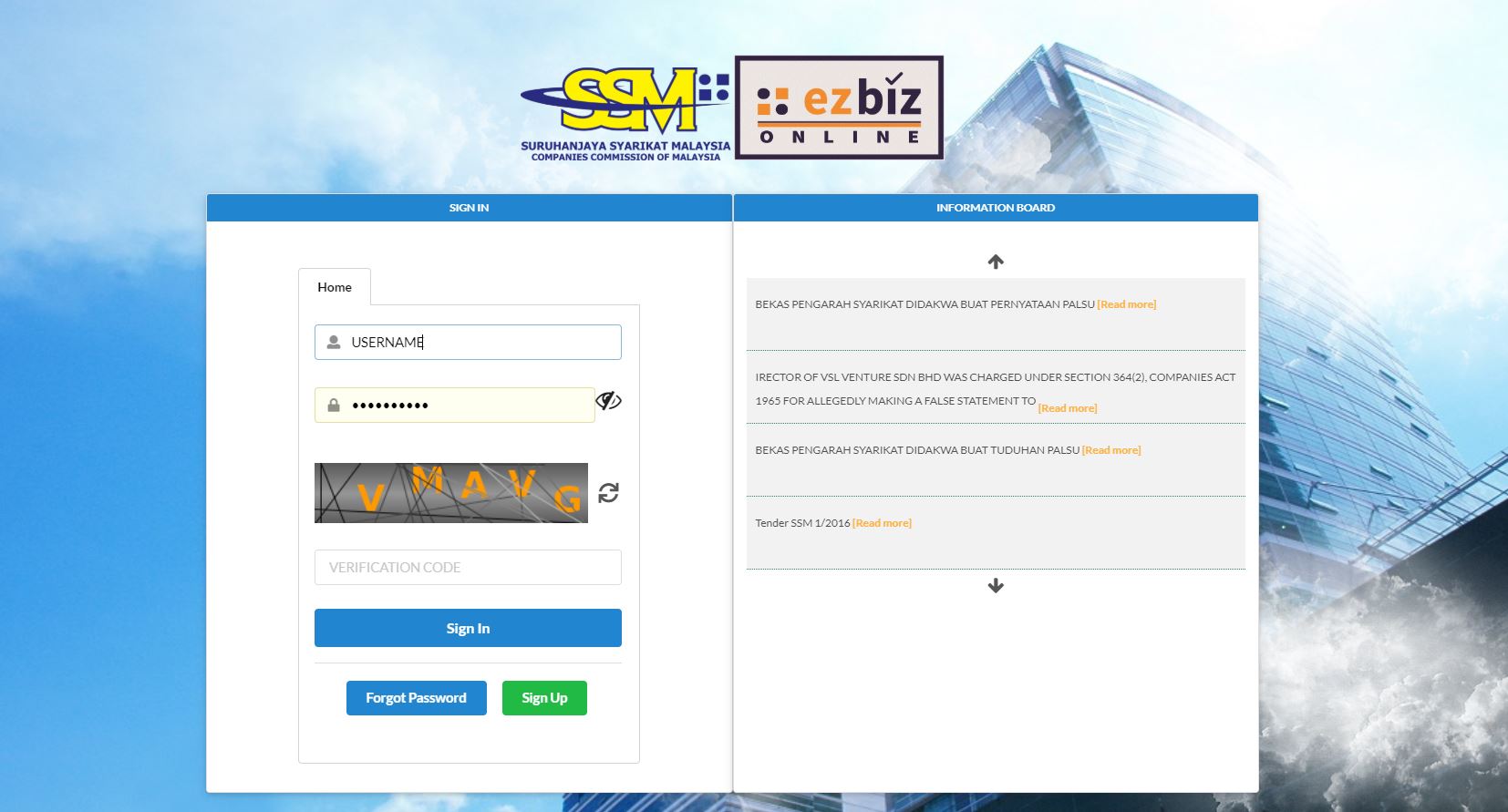 The Malaysia Company Commission (SSM) reminds the customers and people to be careful of the existence of a website that uses SSM name without permission to gain profit. Be sure to visit the valid website at ezbiz.ssm.com.my.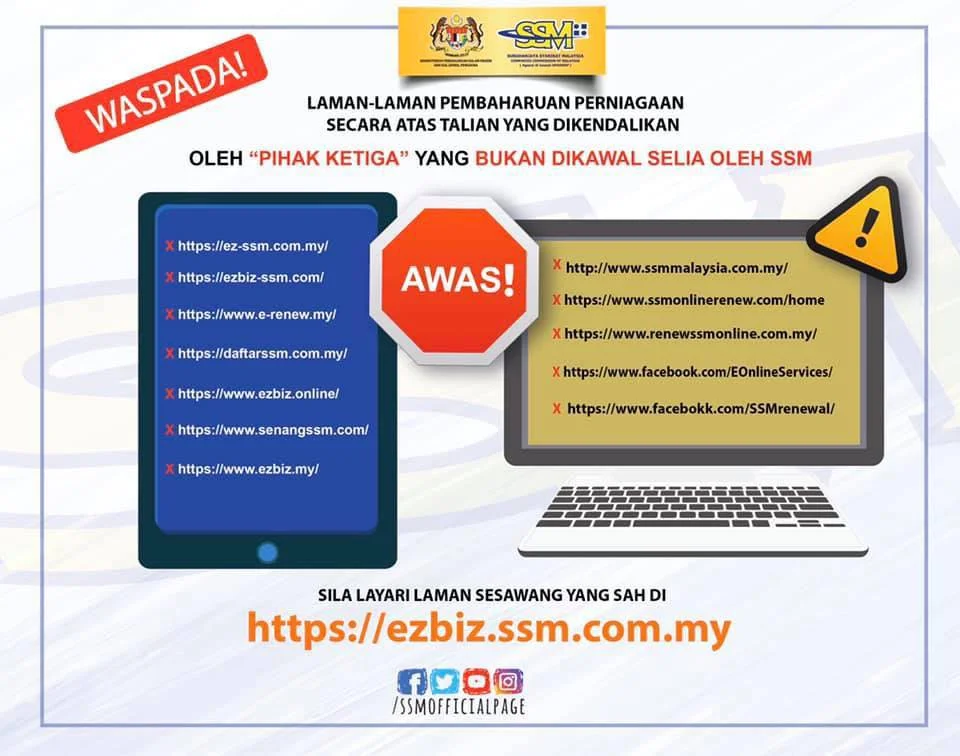 How to register as an ezBiz Online user?
First, visit ezBiz Online Registration Page and register as an ezBiz Online user by clicking here. Choose NRIC as the Id Type, key in your Identity Card (IC) number and fill in your Name as per IC and other required details as instructed.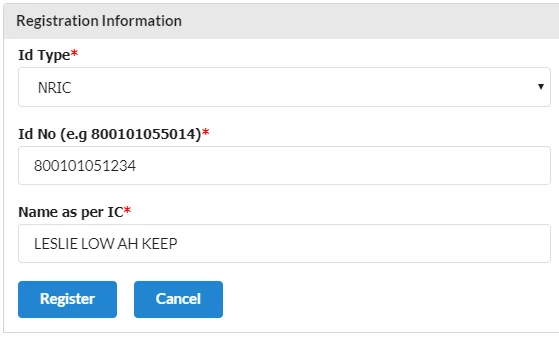 ezBiz account Activation by visiting SSM counter
Next, you will have to visit the nearest SSM office for one-time activation. Here are the requirements:
The owner of the company must be a Malaysian Citizen or Permanent Resident of Malaysia.
The owner of the company must also be aged in between 18 years and above.
ezBiz account Online Activation via ezBiz website
Starting from January 29, 2021, SSM will enforce the activation of EzBiz Online user accounts through the portal ezbiz.ssm.com.my to replace the process of activating user accounts via email which is currently implemented in states placed under the Movement Control Order (PKP). ezBiz account activation application via email will be terminated on February 10, 2021. Users who have submitted an application and received query via email must reply the query before February 10, 2021.
Sign in to ezBiz website
Click on "User Profile" and choose  "User Verification Request"

Click "Add New" on the next page

Attach the following mandatory documents and then click "Submit"

copy of Identity Card front and back (document size not exceeding 3MB in JPEG or PDF format)
a clear picture with the applicant holding an identity card at neck level (document size not exceeding 3MB in JPEG or PDF format)
any one of the official documents such as driver's license, Passport, Birth certificate, utility bills, etc. with the user's name in the Supporting Document (document size not exceeding 3MB in JPEG or PDF format)


Notes:
Applications received will be processed. Please make sure all attached documents are complete and clear for review and approval.
Users will receive an email from SSM that the ezbiz User Accounts activation has been successful and users can continue to enjoy services offered at ezBiz online.
In case of incomplete application, users will receive an email from SSM and he/she will need to resubmit the documents mentioned above.
What are the services offered via ezBiz Online Portal by SSM?
How much do I need to pay for:
ezBiz Online New Business Registration
You can easily register a New Business via the ezBiz Online Portal. Once you've logged in, go to My Business Services > New Business Registration > New Business.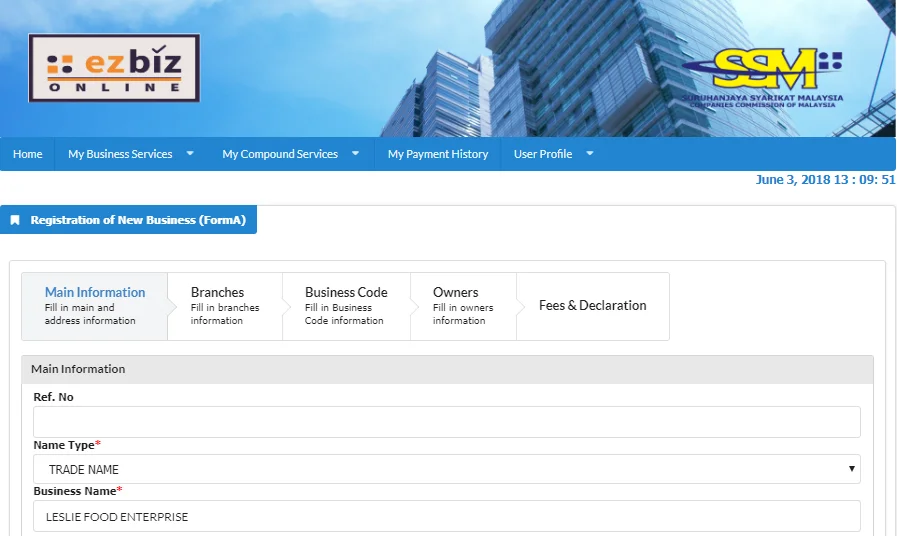 You will have to go through five sections on the website for a successful business registration. The Main Information Section is where you fill in the details like Business Name, Business Start date, Registration period and Business address information. Here is a guide for Business Name Application. For Business names like Nurseries/Taska, Care Centre/Pusat Jagaan, Kindergarten/Tadika, Tuition Centre/Pusat Tuisyen, Enrichment Centre/Pusat Perkembangan, School/Sekolah, you must proceed to the nearest SSM counter. Also, read the article on how to get a great name for your company. Then, you will need to fill in the information regarding your company branches (if applicable) in the Branches Section. Next, fill in the Business Code information in the Business Code Section. You can search for your business code in this link. After that, fill in the owner's information in the Owners Section. Last, make your payment and declare the information submitted in the Fees & Declaration Section.
ezBiz Online Change of Business Particulars
If you made a mistake or need to update your business particulars, you can always make changes by going to My Business Services > Business Changes > New Business Changes. The changes of info to the business will cost you RM20.00 and RM10 for the Business Info print-out. Partner verification is required for any changes in the Business Particulars (if Partnership), the application would not proceed if the partner does not yet verify it.
You can update the following:
Principal business address
Type of business
Particulars on branches
Note: Changes of information of owner/partner can only be done over the counter.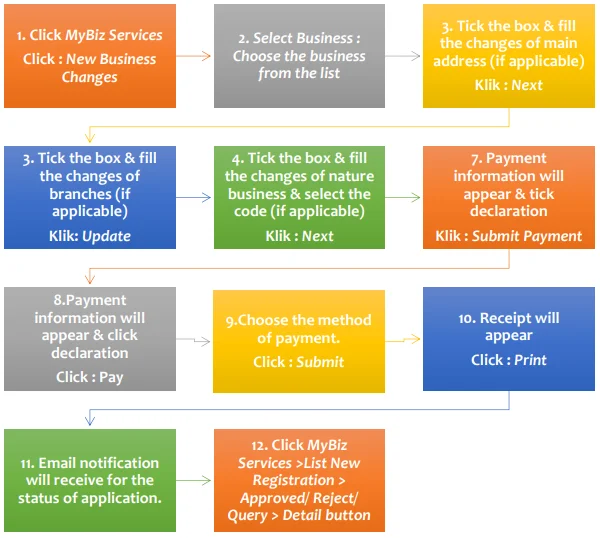 ezBiz Online Business Renewal
Once you have your online ezBiz account activated, you can renew your business online via the portal. The renewal period should be prior or within 12 months after the expired date. Go to My Business Services > Renewal Service > Renewal by Owners.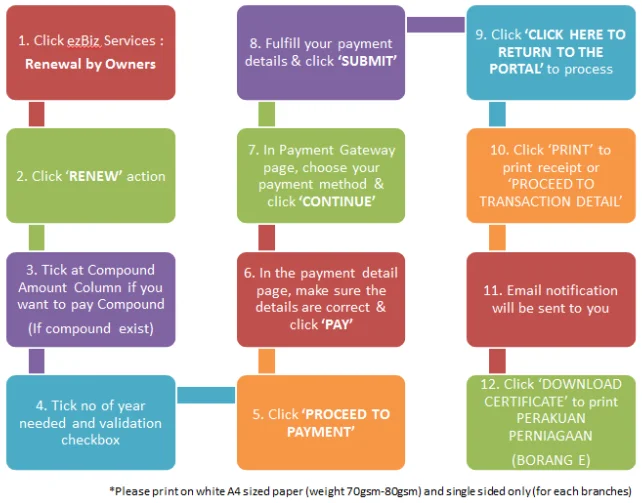 You can also perform a third-party business renewal by going to My Business Services > Renewal Service > Renewal by Others.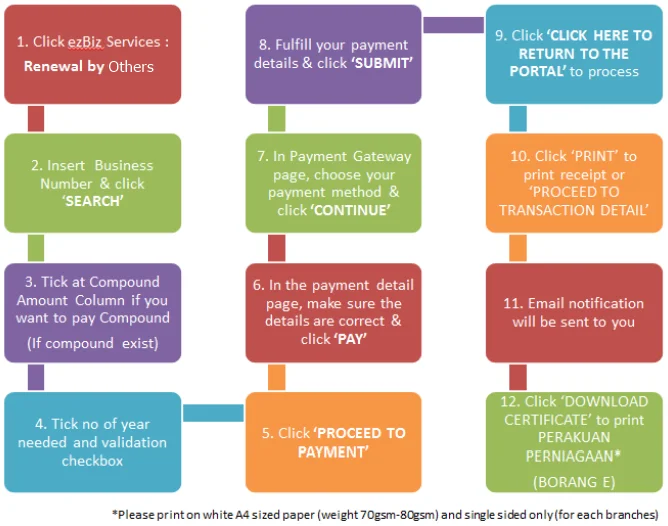 You can view all your Business Renewal transactions by going to My Business Services > Renewal Service > Renewal History.
ezBiz Online Business Termination
You can also terminate your active business using the ezBiz online portal by going to My Business Services > Business Termination > New Business Termination.
ezBiz Online Compound Services
You can view your outstanding compound and make an online compound payment by going to My Compound Services > Compound Payment. All compounds issued under Business Registration Act 1956 and Companies Act 1965 can be paid through ezBiz Online compound services.
How much is the New Company Registration fees?
Personal Name is RM30.00 per year
Trade Name is RM60.00 per year
Branch(s) is RM5 per year for each branch
How much is the Changes of Business Particulars fees?
Change of business particulars is RM20.00
How much is the Business Renewal fees?
Personal Name is RM30.00 per year
Trade Name is RM60.00 per year
Branch(s) is RM5.00 per year for each branch
Business information is RM10.00
How much is the Business termination fees?
What is the mode of payment in ezBiz Online?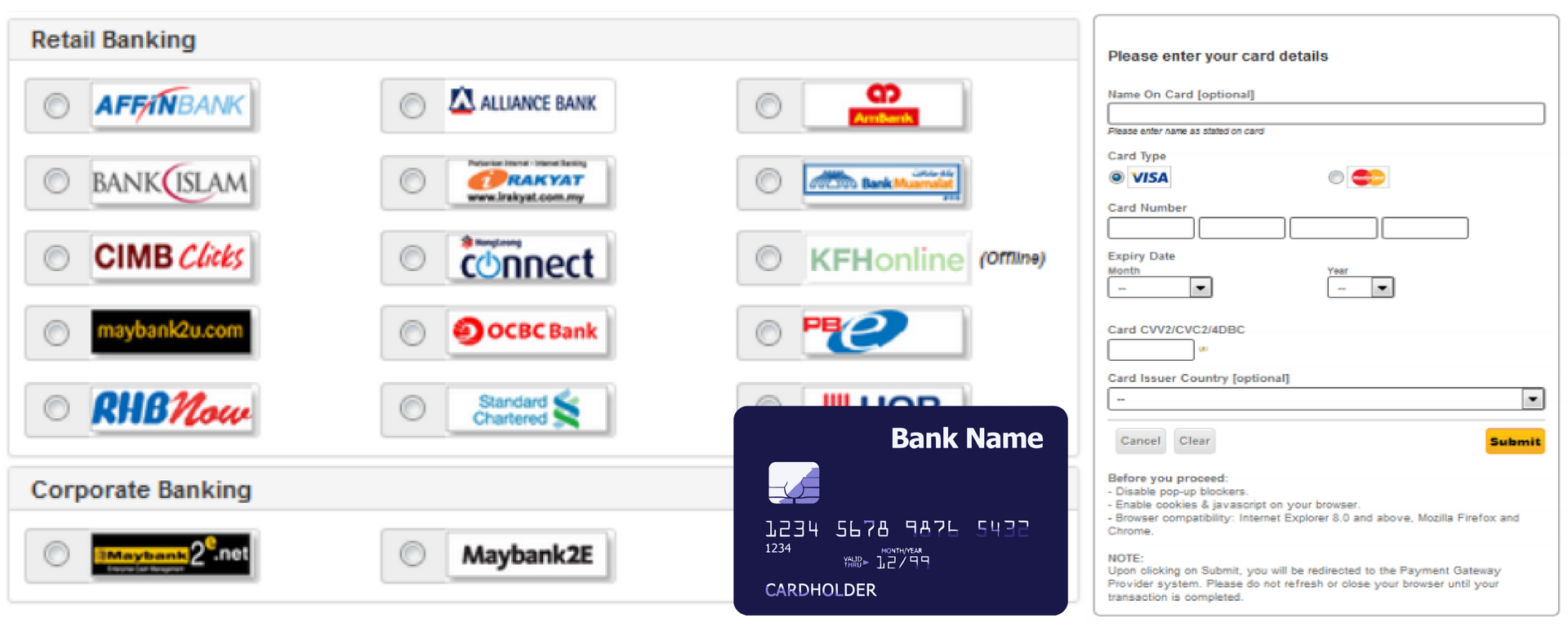 You can make the payment either for New Business Registration, Changes of Business Particulars or Business Renewal by using a Credit card or FPX (Financial Process Exchange – Online banking) service.
How long does it take for business application to be approved (through ezBiz)?
New Business Registration
Applications received before 12pm will be processed by 5.00pm on the same day
Applications received after 12.00 pm will be processed before 12:00 pm the following business day
Applications received on Saturdays, Sundays and public holidays will be processed by 12.00 noon on the next working day
Incomplete applications will be processed within 24 hours after the response is received (query answered) on working days
Business Renewal
Immediately approved / auto-approved, customers can download their business certificates through ezBiz Online upon successful transaction
Status of Business Registration & Download Business Certificate
The user will receive email notification regarding the application status. Once the registration has been approved, the user may download the registration form, certificate and business information (if any) through ezbiz Online Portal.
How to reply/ answer query?
The user must reply/ answer the query through ezbiz Portal within 30 days from the query date.
---
For more information regarding Ezbiz Online,
Call Centre for related enquiry: +603 7721 4000
E-mail for general enquiry: [email protected]