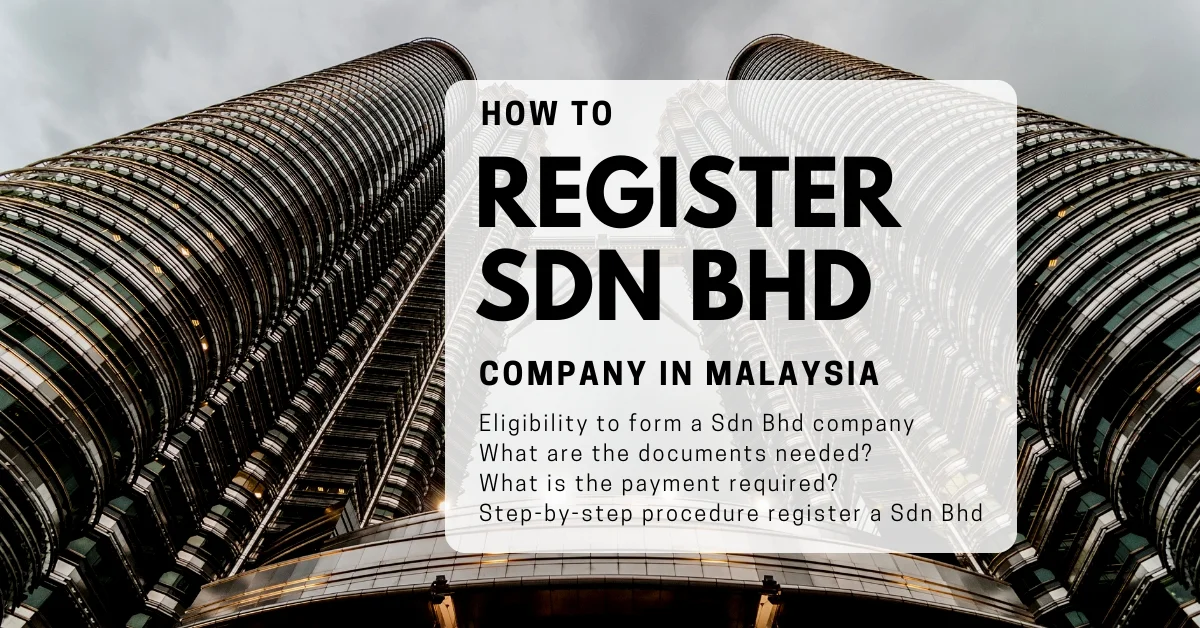 Many of our readers asked if we do help to register a Sdn Bhd Company in Malaysia and here is the solution!
This article will show you the requirements, documents, cost, and everything you need to register a Sdn Bhd Company in Malaysia.
If you are looking for a sole proprietor or partnership registration, read our article on How to Register a Company in Malaysia with SSM (Step-by-step Guide).
What is Sdn Bhd company?
SDN BHD, the abbreviation of Sendirian Berhad, is a private company limited by shares which is the most common company registration type in Malaysia. In light of the Companies Act 2016, only 1 director and 1 shareholder is required to form a Sdn Bhd company, instead of 2 directors. Thus, you can register a Sdn Bhd company without other business partners, acting as the sole director and sole shareholder for the company. There can be only up to 50 shareholders in a Sdn Bhd company.
Who should register their company as Sdn Bhd?
Malaysian or non-Malaysian residents who want to run SME businesses
How to register Sdn Bhd Company in Malaysia?
You can skip through the complicated process and get Foundingbird to help out with the registration of a Sdn Bhd Company or do it all by yourself.
Eligibility to form a Sdn Bhd company
At least 1 director who resides in Malaysia and 1 shareholder. The director and shareholder can be the same person. The director should be:
18 years old and above
residing in Malaysia
not disqualified under Section 198 of Companies Act 2016
What are the documents needed to register a Sdn Bhd Company in Malaysia?
MyCard / Passport for MyCoID account validation
Authorization letter if your proposed company name contains controlled words or trademark
How much does it cost to register a Sdn Bhd Company in Malaysia?
Incorporation fee of RM1,010 payable to SSM Malaysia
What is the step-by-step procedure to register a Sdn Bhd Company in Malaysia?
Account registration on MyCoID portal
Account activation at SSM counter
MyCoIL portal login credentials received through email upon account activation
Company name search on the Direct Incorporation Application on MyCoID portal homepage
Other information under Name Search
Super Form to clarify your proposed company name
Business code selection and description
Directors and shareholders information
Application submission
Make the payment of RM1,000 as an incorporation fee (before tax) and get a transaction receipt.
Notice of Registration as proof of incorporation received through email
You will receive the Notice of Registration as proof of incorporation through email within 1 business day if your company has been successfully registered.
A Company Certificate can be purchased with a prescribed fee at the SSM counter if it is required. You will be notified through email if the application is queried by SSM. The application can be edited and resubmitted again.
Important: Within 30 days of company registration, a company secretary shall be appointed. It can be done on the MyCoID portal. While it is not mandatory for a Sdn Bhd company to lodge a constitution of the company, it can be done on the MyCoID portal as well.
How long does it take to register a Sdn Bhd Company in Malaysia?
The full process of Sdn Bhd Company registration usually takes 1 to 2 weeks time. Here is the estimated timing for each process:
Account registration & activation, company name search: 1 day
Preparation of registration documents: 2-3 days
Signing of documents by all directors and shareholders:  1 day
 Submission of documents to SSM: 3-5 days
 Digital incorporation certificate issued by SSM: 1 day
Looking for a faster solution? Too much hassle to visit the SSM counter for MyCoID account validation?
Check out what Foundingbird can offer in the paragraph below. Foundingbird, a company secretary, can do it for you!

We are here to introduce a whole new solution for those who wish to register for an Sdn Bhd Company online.
Foundingbird is a digital company secretary that provides an online portal where you can carry out company registration for your Sdn Bhd company in a streamlined process fully online, from filling in your company information to e-KYC process for all directors and shareholders, all at your fingertips.
At the moment, Foundingbird can help with Sdn Bhd registration through our website, it can be done through their mobile app once it is launched (very soon).
Everything is fully online, from filling up company information, payment, to e-KYC for all directors and shareholders.
They can't incorporate companies other than Sdn Bhd for now, nor switch your company secretary to Foundingbird. They foresee to be able to switch your company secretary to Foundingbird early next year. You can follow them on social media and stay tuned.
What is the cost to register Sdn Bhd with Foundingbird?
The pricing of Sdn Bhd registration via Foundingbird is RM1499, inclusive of the legal fee required by SSM of RM1010. The monthly company secretary fee is RM200.
Here is what's included:
Incorporation Sdn Bhd – RM1499 one-time fee
SSM Filing fees (worth RM1010)
Name Search & availibility check
Preparation of all incorporation documents
Filing incorporation with SSM on your behalf
Minutes book, shareholder registry, etc.
Assistance in bank account opening
Certificate of incorporation
First board of director's resolution
Company Secretary – RM200 per month
Licensed Company Secretary
Registered office address and phone number
All standard resolutions free of charge
A dedicated relationship manager
Free assistance with opening bank accounts
Access to the Foundingbird App
Discounts to a wide variety of products & services
Up to 5 Certified True Copies per month
What are the steps to register Sdn Bhd Company with Foundingbird?
Click on the 'Start Incorporating' button, and the chatbot will guide you through the process.
Provide information regarding your business details, directors and shareholders.
After submitting all the information, you will receive an email for the payment required.
After the payment is done, all directors and shareholders will receive an email to carry out eKYC. They will need to take a photo of the front and back of their IC or passport, and also a selfie.
After verification of all directors and shareholders is done, an email will be sent to inform that we are going to incorporate the company shortly.
After incorporation is approved by SSM, all directors and shareholders will receive the notice of registration through email.
After Step 5, it usually takes 2 to 3 working days for your company to get incorporated, subject to the SSM approval.