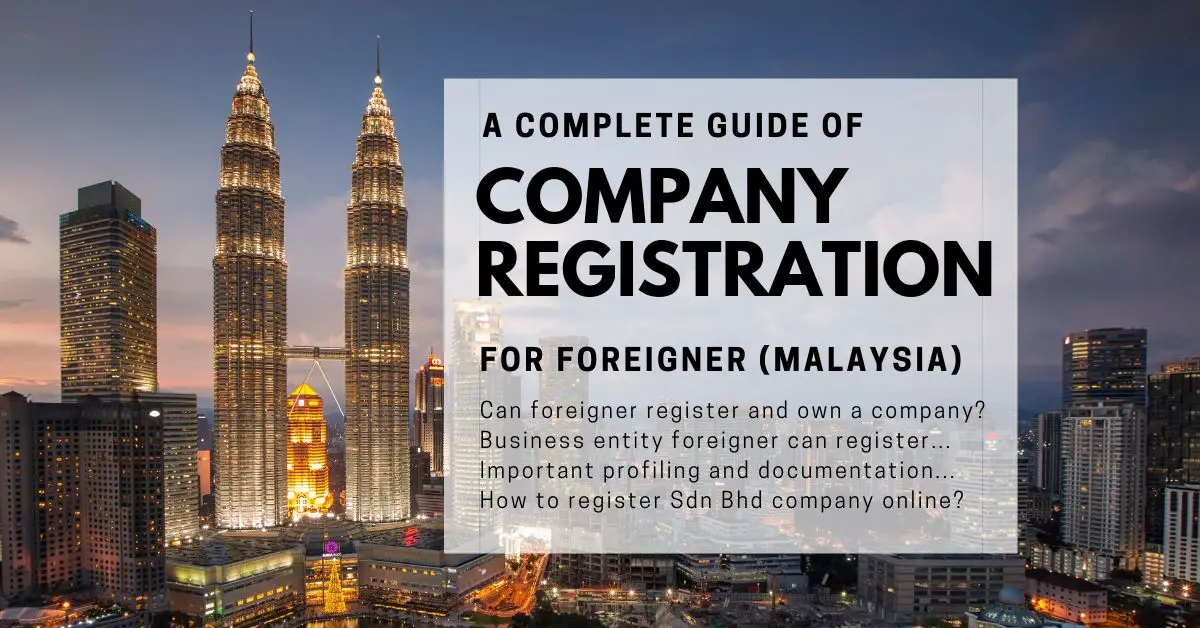 Calling all foreigners (non-Malaysian) who wish to start a company/business in Malaysia, now you can register a company in Malaysia online via Foundingbird. In this article, you will discover some important information regarding the registration of a foreign company in Malaysia and the step-by-step procedure to register a legal Sdn Bhd company in Malaysia online.
Here are some of the most popular questions asked:
Can foreigners register and own a company in Malaysia?
Yes, foreigners can fully own a Malaysian Sdn Bhd. Since 2016, it is no longer required to have local ownership in the company. However, under the Malaysian Companies Act of 2016, it is required to have at least 1 director residing in Malaysia.
What type of business entity foreigner can register in Malaysia?
Under the Company Commission of Malaysia (CCM), all foreigners are allowed to register a private limited by shares (Sendirian Berhad – "Sdn Bhd") company in Malaysia. Foreigners are not allowed to register sole proprietor, enterprise, or LLP companies in Malaysia, these entities are meant for Malaysian only.
What are the benefits of incorporating a Malaysia Company?
Strategically located in South East Asia
Low start-up costs and rental rates compared to Singapore
Lower wages as the average wages are RM1,100 per month
No double taxation as Malaysia has 68 double taxation treaties with other countries
No withholding taxes on dividends paid outside of Malaysia.
No restrictions on Malaysian corporations upon repatriation of capital, profits, dividends, and royalties
Malaysia has given strong incentives to encourage business formation and capital investment
What kind of foreign businesses are encouraged by the Malaysian government?
Here are a few of the industries in which the Malaysian government is trying to encourage foreign investment:
Education
Petroleum, Oil and Gas
Banking and Finance
Tourism Outbound and Ticketing
Agriculture
What are the stages and how to ensure a successful application?
Setting up the right business entity is very important. All profiling and documentation on each stage need to be well connected and presentable to the following authorities for the 5 initial stages:
Registry Commission for your Company Entity (Malaysian Sdn Bhd)
Multiple Trade Licenses from Local Town Council, Ministry Trade Consumerism, Tourism, Central Bank, Education, Transport authorities, etc.
Letter of Recommendation for relevant authorities to boost your application.
Expatriate Work Visa from the Immigration Department of Malaysia.
Compliance and maintenance keeping company status active (Company Commission, Company Secretary, Auditor, Accountant and Tax Agencies)
Each authority has its own set of requirements on profiling, setting, and documentation. To minimize risk and cost, it is advisable to set the right profile that enables the acceptance of all authorities for all applications. Getting it right from the first step is crucial to enjoy hassle-free, minimize cost, and avoid stressing moments in the whole process.
How long does it take to incorporate a Malaysian Sdn Bhd Company?
2 to 3 days.
Do I need to be in Malaysia for the company registration?
Not necessary, Foundingbird can help to register your company while you are in your home country.
What is the cost of company registration?
The pricing of Sdn Bhd registration via Foundingbird is RM1499, inclusive of the legal fee required by SSM of RM1010. The monthly company secretary fee is RM200.
Here is what's included:
Incorporation Sdn Bhd – RM1499 one time fee
SSM Filing fees (worth RM1010)
Name Search & availibility check
Preparation of all incorporation documents
Filing incorporation with SSM on your behalf
Minutes book, shareholder registry, etc.
Assistance in bank account opening
Certificate of incorporation
First board of director's resolution
Company Secretary – RM200 per month
Licensed Company Secretary
Registered office address and phone number
All standard resolutions free of charge
A dedicated relationship manager
Free assistance with opening bank accounts
Access to the Foundingbird App
Discounts to a wide variety of products & services
Up to 5 Certified True Copies per month
Within 30 days of company registration, a company secretary shall be appointed. It can be done on the MyCoID portal. While it is not mandatory for a Sdn Bhd company to lodge a constitution of the company, it can be done on the MyCoID portal as well.
I decided to go ahead to register Malaysia Sdn Bhd company, what are the next steps?
We are here to introduce the best solution for those who wish to register for an Sdn Bhd Company online.
Foundingbird is a digital company secretary that provides an online portal where you can carry out company registration for your Sdn Bhd company in a streamlined process fully online, from filling in your company information to e-KYC process for all directors and shareholders, all at your fingertips.
Here are the simple steps:
Click on the 'Start Incorporating' button to create an account on Foundingbird.
Provide information regarding your business details, directors, and shareholders.
After submitting all the information, you will receive an email for the payment required.
After the payment is done, all directors and shareholders will receive an email to carry out eKYC. They will need to take a photo of the front and back of their IC or passport, and also a selfie.
After verification of all directors and shareholders is done, an email will be sent to inform that we are going to incorporate the company shortly.
After incorporation is approved by SSM, all directors and shareholders will receive the notice of registration through email.
After step 5, it will take 2 to 3 working days for the SSM approval.