Search Engine Optimization (or known to be SEO) is always one of the best topics for digital marketers, and it is one of my favourites. Being requested from a friend of mine, here is her question "Can I rank my web design services in Malaysia on Google first page?" Thus, today, I am going to analyse the following:
What is the keyword demand and where to search for it?
Is it worth to rank a web design company website to the top?
What is the better SEO alternative?
Web Design Malaysia Keywords Research using Google Keyword Planner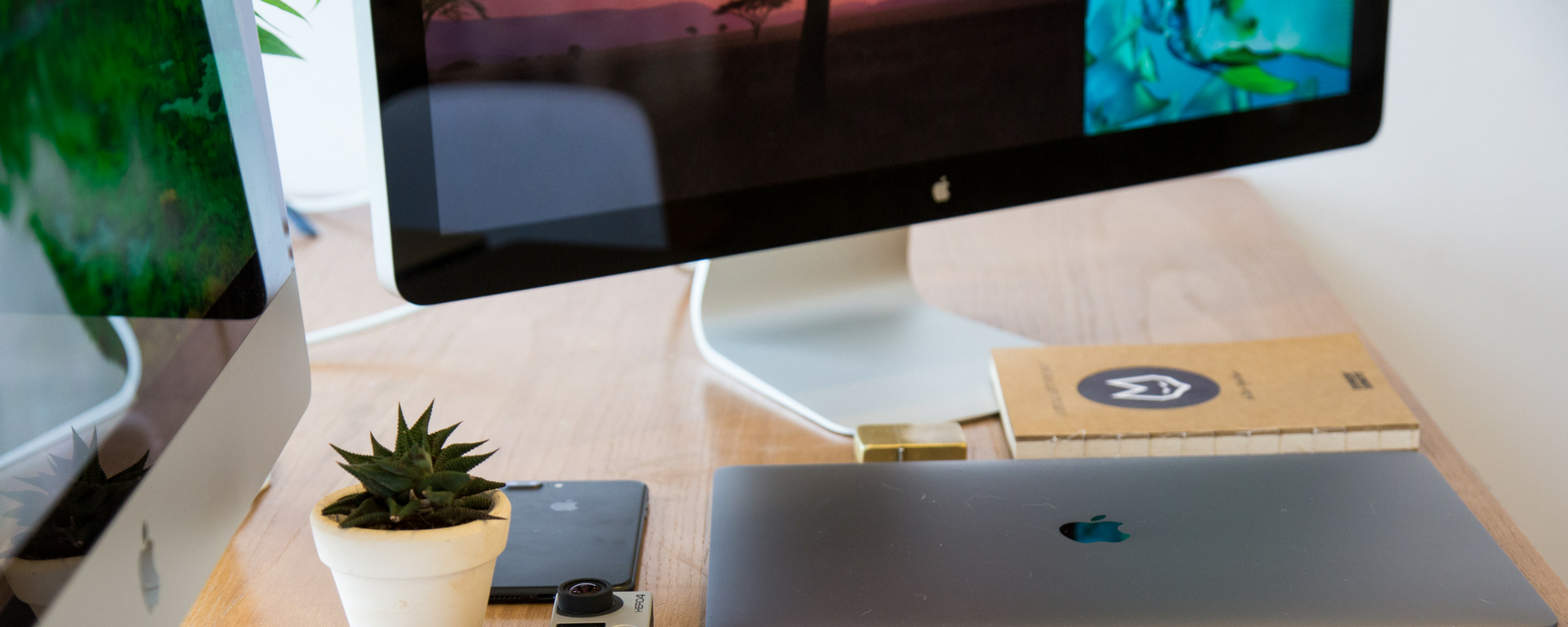 The first step is to use Google Keyword planner (a free online tool) to do a quick research on the keyword demand for "web design malaysia". The reason to do so is to understand how many people actually search the exact keyword in Google. Here are the results (with other keyword ideas suggested by Google) and it actually worries me.
| | | | | |
| --- | --- | --- | --- | --- |
| Keyword | Avg. Monthly Searches (exact match only) | Volume (Global) | Competition | Suggested bid |
| web design malaysia | 1K – 10K | 2400 | 0.62 | 12.45 |
| website design | 1K – 10K | 201,000 | 0.79 | 35.66 |
| web developer | 1K – 10K | 165,000 | 0.63 | 11.48 |
| web design | 1K – 10K | 301,000 | 0.67 | 13.6 |
| website design malaysia | 1K – 10K | 1,300 | 0.72 | 12.01 |
| malaysia website design company | 100 – 1K | 390 | 0.59 | 13.51 |
| best website design | 100 – 1K | 27,100 | 0.56 | 8.19 |
| web design company | 100 – 1K | 27,100 | 0.83 | 15.77 |
| website design company | 100 – 1K | 12,100 | 0.79 | 10.21 |
| bike bear | 100 – 1K | 480 | 0.02 | |
| just simple | 100 – 1K | 480 | 0.05 | 15.07 |
| web design kuching | 100 – 1K | 110 | 0.4 | 7.37 |
| jb web design | 100 – 1K | 140 | 0.55 | 10.06 |
| web design johor | 100 – 1K | 110 | 0.46 | 9.01 |
| web design ipoh | 100 – 1K | 0 | 0.22 | 4.65 |
| website malaysia | 100 – 1K | 720 | 0.44 | 4.58 |
| web design company malaysia | 100 – 1K | 1,000 | 0.46 | 15.66 |
| freelance web designer malaysia | 100 – 1K | 210 | 0.59 | 6.2 |
| ecommerce website design malaysia | 100 – 1K | 110 | 0.86 | 31.97 |
| website design malaysia price | 100 – 1K | 210 | 0.83 | 12.83 |
| penang web design | 100 – 1K | 480 | 0.73 | 12.79 |
| malaysia web design package | 100 – 1K | 90 | 0.71 | 14.29 |
| web design kl | 100 – 1K | 260 | 0.46 | 7.29 |
| web development malaysia | 100 – 1K | 140 | 0.76 | 7.09 |
| webdesign | 100 – 1K | 60,500 | 0.74 | 22.12 |
| website design penang | 100 – 1K | 140 | 0.61 | 13.04 |
| website developer malaysia | 100 – 1K | 170 | 0.96 | 11.41 |
| web developer malaysia | 100 – 1K | 320 | 0.83 | 10.43 |
| design company in malaysia | 100 – 1K | 110 | 0.64 | 6.2 |
| website design kuala lumpur | 100 – 1K | 140 | 0.77 | 9.08 |
| website builder malaysia | 100 – 1K | 210 | 0.96 | 43.74 |
Data collected on February 4th, 2018.
Oh yes, it is a huge table packed with lots of information and data (actually there are more keyword ideas). First of all, I've sorted the data with the second column (Avg. Monthly Searches with the exact match only). The top keyword in the table is "web design malaysia" and it has an average monthly search of 1k to 10k in Malaysia. "1k to 10k" is actually not very meaningful; it could mean 1,001 searches or 9,999 searches.
Thus, the third column is the key. By analysing the whole table, you will realize that those Malaysia's localized/related keywords only have an average monthly search between 100 to 2,400. Let's take the mid-point 1,200 searches per month, there are probably only 40 searches per day. Let's say the first website to appear on the first line of the first page on Google has 80% click-through rate, that is only 32 clicks per day.
100 – 2,400 clicks per month, 32 clicks per day.
Next, have a look at the competition column (the fourth column), most of them have a score more than 0.5, which means medium to high competition. Look at the fifth column, that is the Google suggested bid price for the keyword, they are actually relatively cheap, an average of RM13.50. Thus, I can almost gurantee that whenever you search "web design malaysia" or related keywords, you will always see three to four advertisements on top of the Google search results on the first page. This will definitely decrease the click-through rate of your website, even if you are featured on the first line of the first page of Google search results.
So, how many people actually click on your website per day from the "web design malaysia" related keyword searches? Twenty? Ten? or even less?
Potential 10 – 20 clicks even if you rank to the top of Google SERP.
To me, it seems like it is not worth to do SEO for a web design company page to rank it in Google search results page due to the fact that you probably only get ten or even less clicks. My principle is to do things that are worth doing for, as the saying goes "I only run when I can run faster than I walk".
---
Is that the end of the story?
Probably not. Having a website design company is not just about ranking the website to the first page to get traffic or leads. It is all about the value creation and your business model/strategy. Of course, if you can rank your web design company website to the first page, you can always add the following sentences on your page, just like how Bike Bear did:
You're reading this probably because you found us through Google. We compete with some of the finest SEO service providers in the country and yet we still outranked them.
Not having top ranking in Google with "web design malaysia" related keywords searches doesn't mean you can't get your customers.
Think about your Company Value
As usual, I always talk about the word "value" when someone approaches me with his/her fantastic ideas. Having an awesome idea doesn't mean that you should start a business or company. Try to ask yourself the following questions:
What services can you offer that your competitors are not capable of?
If you are offering the same services, can you actually be better than your competitor?
If you say "NO" to the above question, why would your company even exist?
Localize Business and Referrals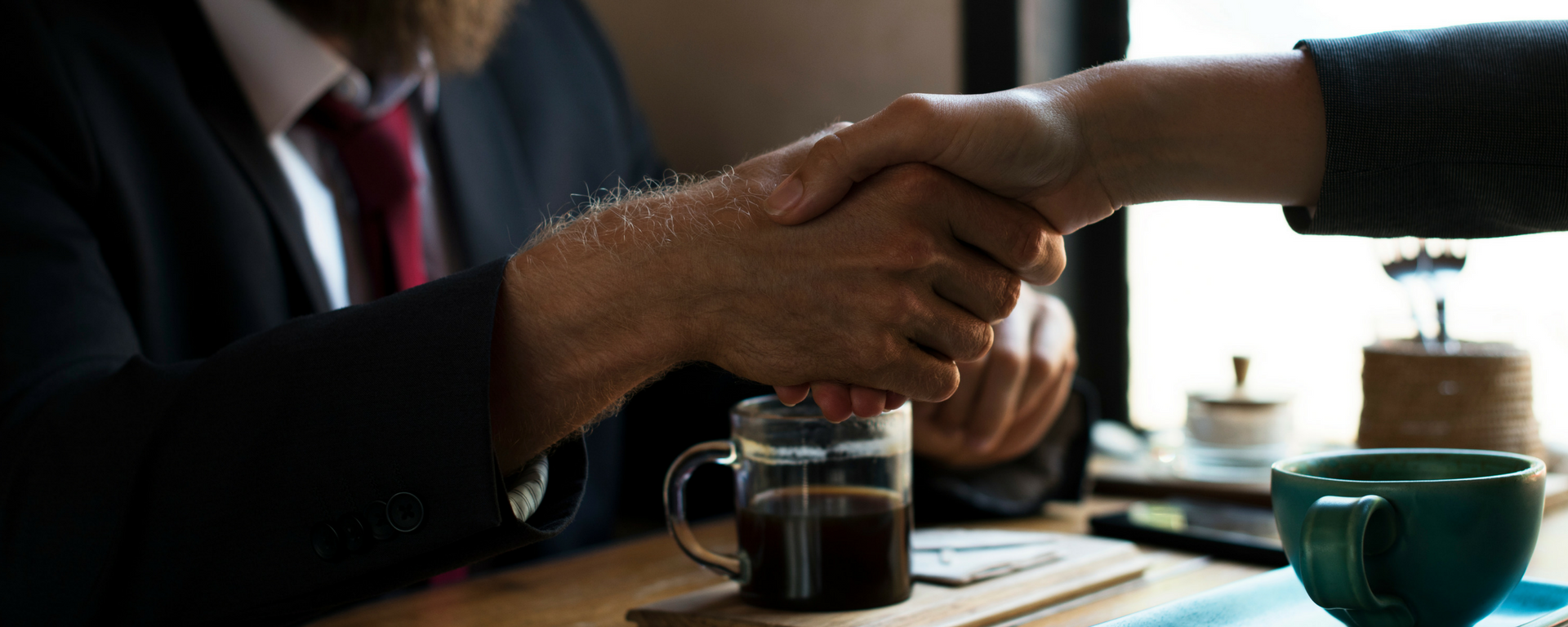 Take this website as an example. Skeneur is a typical localized web design company in Kuala Lumpur, Malaysia and we are not even trying to rank to the top in Google search results. Why? It is because we don't plan to get our customers through Google.
We are a team of freelancers; we are not a huge team with hundreds of professionals designing banners, programming apps or building websites. We are more towards supporting local businesses in Malaysia in a creative way, giving out our best ideas and providing honest consultations.
We help people to understand their business value and possible strategies. We do not have a multi-storey office building and we do not charge extra fees per hour for website modification and consultation. We believe that understanding the needs of a business is the key, sometimes even having a quick discussion at the mamak stall could probably outplay a long and boring formal presentation.
Thus, we are not targeting huge or established brands like Nike and Addidas. We are looking for like-minded individuals/entrepreneurs who want to build their dream over a coffee table. Sometimes, the leads from referrals are actually having better conversion rate than any clicks from Google searches.
Detailed Targeting Using Facebook Ads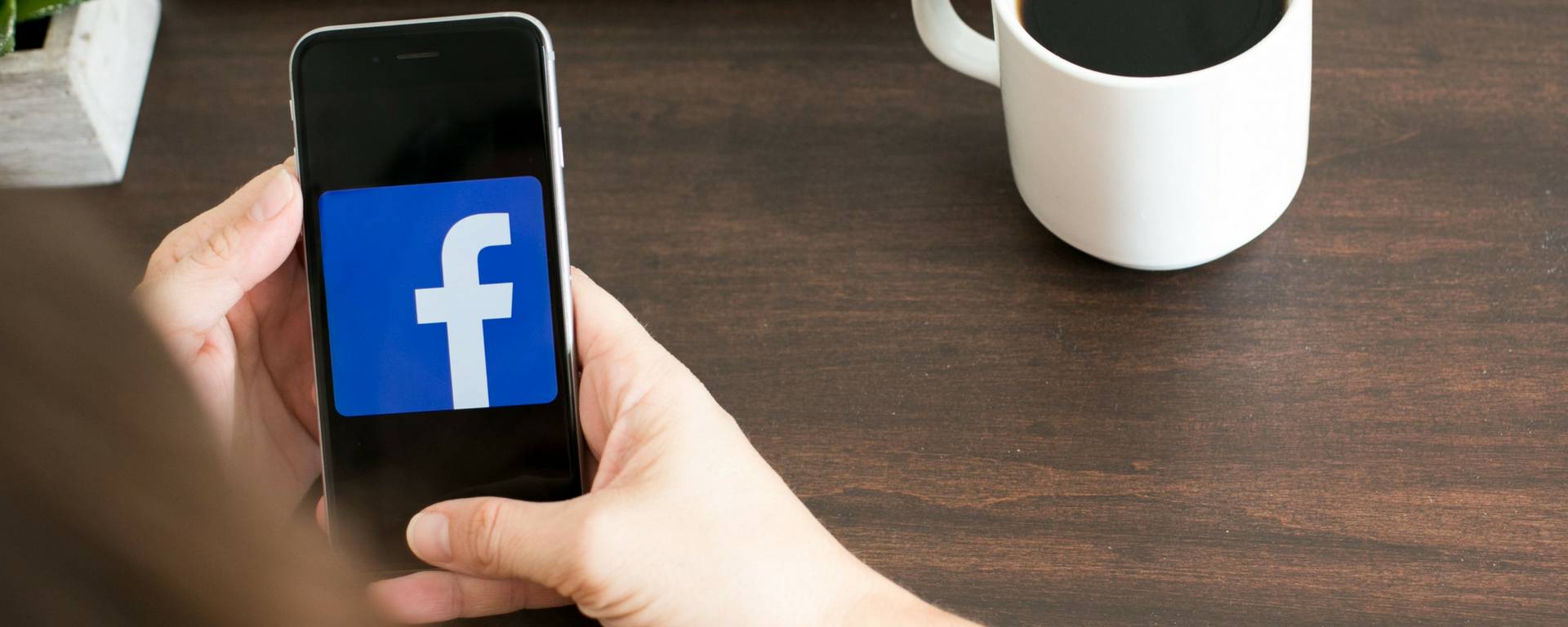 So, what is so unique about Facebook Ads?
It is precise! You can select the age range, gender and their preferred topics. What's more, you can even drop a pin on the map and select target only those who are near to your business location (with a pre-defined radius).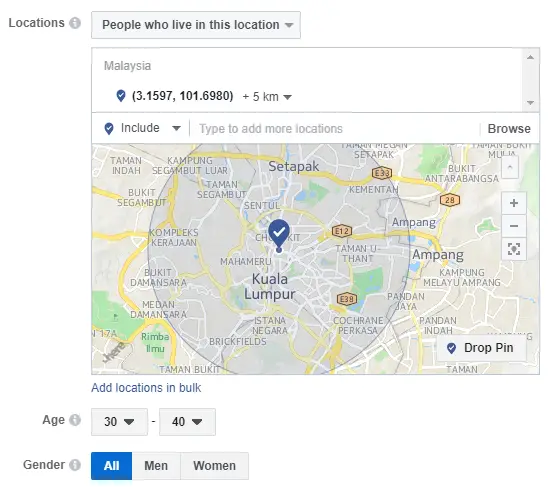 You are lucky that you want to reach customers in Malaysia. This is because Facebook advertising is one of the cheapest ways where you can reach thousands and thousands of people in the region "Malaysia" compared to any other advertising campaigns available at the moment.
Outplay Google Adwords
As we noticed earlier, there is a medium to high competition of advertising keywords relating to "web design malaysia". This means that there are people who will advertise with these keywords from time to time (almost every single day). Google Adwords is applicable when you do your maths right. Calculate the potential return profit from your advertisement spend, decide your advertisement budget and start advertising.
However, how do we design the best Google Ads that converts? As a beginner, I would suggest you model your competitors first. Have a look at the following screenshot taken when I keyed in "web design malaysia" in the Google search bar.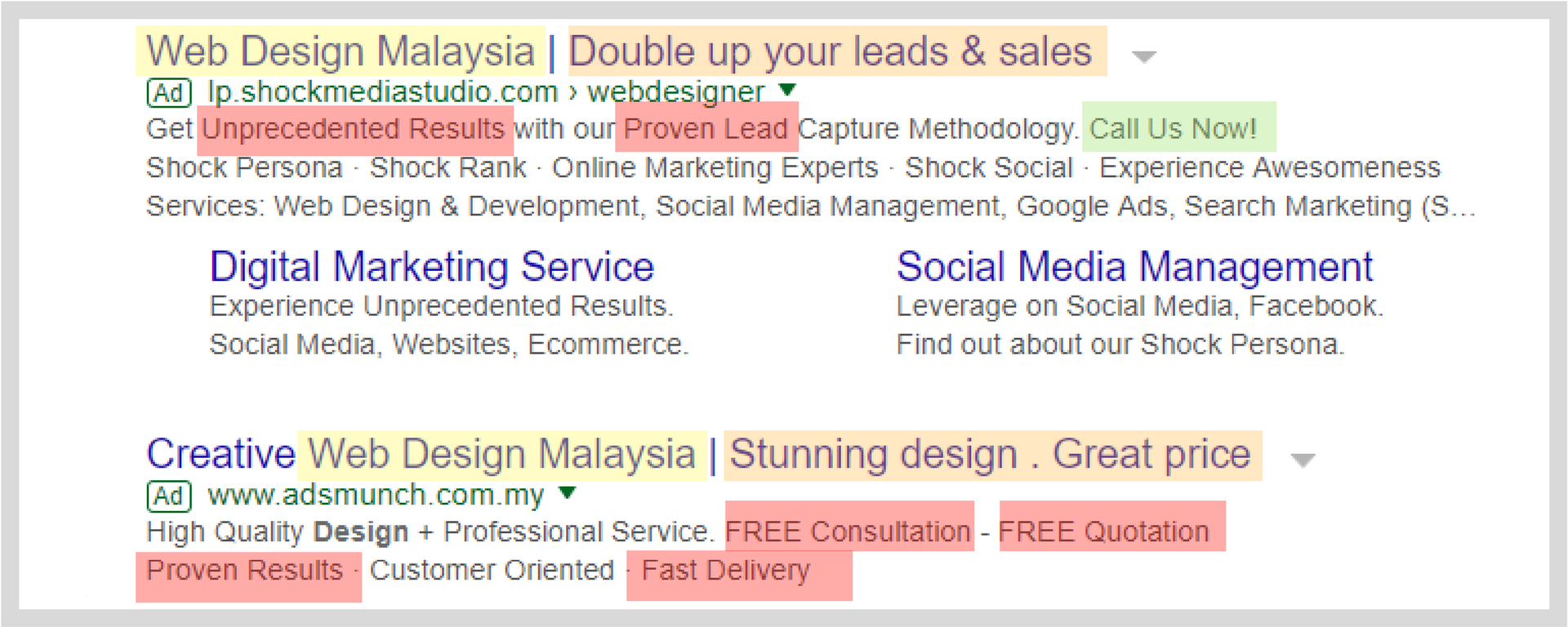 First of all, it is obvious that they include the keyword "Web Design Malaysia" in the title. So, do the same, you must include the exact keyword into your title tag when it comes to advertising using Google Adwords. This will potentially increase the Click-through-rate (CTR) as it is relevant to what they are looking for.
Secondly, design or create a shout-out that people are mostly looking for. In this example, we can see Shockmediastudio is using "Double up your leads & sales" while Adsmunch is using "Stunning design, Great price" to attract their potential clients.
Next, have a clear Call-to-action (CTA) in your ads. Shockmediastudio includes the wording "Call Us Now!" as it directs people to seek ways to call them. However, if they include their phone number in the ads, it would be even better.
Also, try to include words like "proven", "results", "high quality", "FREE" in your title or description.
---
This is Not the End of the Story
As you can see, the SEO alternatives are way more effective in getting potential customers than the ranking website approach. Although it doesn't seem to be worth doing SEO for a web design company after the analysis, I still believe in my proven "whatever colour"-hat SEO techniques in ranking any website in Malaysia.
Finally, I've accepted the challenge and right now I am working hard on the SEO part of it. If you would like to know more about SEO, click the button below.
If you find this article to be useful and wish to have more, feel free to "like" and "share".