---
Cheapest, RM200
For a limited time, we are offering special price for our web design services, only RM200. No hidden fees and further charges.
Complete Package
We will build a complete five-page website, which includes the Home, About Us, Services, Portfolio and Contact pages.
---
Rank on Google
We use the latest Search Engine Optimization techniques to rank your website to the top of Google search results.
All done for you
We will do all the hard work for you, so there is no technical skills needed. Everything is included in this RM200 package.
THE BEST WEB DESIGN PACKAGE IN MALAYSIA
Important! This Web Design Package is not for Everyone. Talk to me and I will tell you why.
RM200 WEB DESIGN PACKAGE (Limited Offer!)
When it comes to web design in Malaysia, we are probably the best. We offer the Cheapest Web Design Price and Packages, design the Most Complete & Beautiful Website, and rank our client's website to the Top of Google Search Results. Most importantly, we are based in Malaysia (specifically in Kuala Lumpur and Selangor) and this makes it easy for us to meet up for a free consultation or even for a cup of coffee/tea.
1 Domain Name (.com)
5 Webpages
5 Professional Email Addresses
Free Slider & Pictures
Google Location Map
1 Contact Form
Social Media Buttons
Mobile Friendly
Everything Set Up For You!
For a limited time, RM200 Only
6 REASONS WHY WE ARE THE BEST WEB DESIGN COMPANY IN MALAYSIA
Cheapest, RM200 Only
Yes, we are offering the cheapest web design Malaysia price & package in the country (most affordable).
The web design price mentioned includes our website design service fees, a Free Domain name (www.yourname.com) and hosting (a storage system for your website).
Basically, the package covers everything you need for a live website.
Complete & Beautiful
We will be using our pre-defined Wordpress template for the web design.
Our website design package includes up to 5 pages (Home, About, Services, Portfolio, Contact), a blog and a Beginner friendly cms Wordpress interface. See our pre-defined website template here.
This web design template will allow you to showcase your company.
Top Ranking on Google
We will provide the Best Search Engine Optimization (SEO) technique to rank your website on Google.
Our web design template is super SEO friendly and it enables us to rank your company or business to the top of Google when someone search for your services or products.
This ultimate SEO friendly website will help Google index your website in 1 day!
We Listen & Verify
One of the biggest problem that web design company is facing is that they don't listen enough. We are different, we listen from you carefully and most importantly we will take our time to digest and verify the points with you.
We Suggest the Best
We analyse your business nature and industry (together with all your competitors in the market) and we will plan and design the best website that suits your business strategy and direction, of course with your agreement too.
We Take Responsibility
Many companies do not take responsibility of a bad web design that doesn't meet the business objective. We are different, we will do infinite web design revision to help your business grow, your success is our Key Performance Indicator (KPI).
MORE ABOUT OUR WEB DESIGN PACKAGE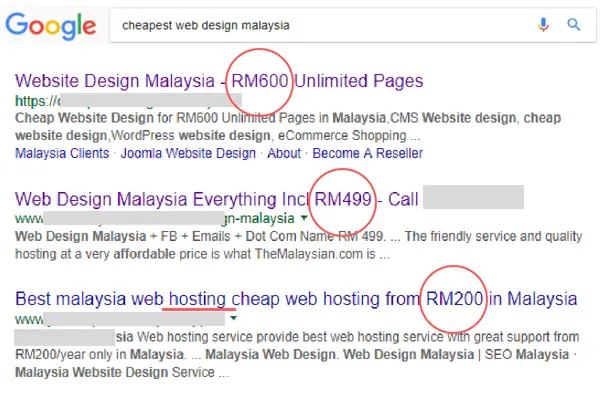 Is this the Cheapest Web Design Price in Malaysia?
In order to claim that we are the cheapest, we did a research. These are some of the featured results in Google when you type in "cheapest web design Malaysia", RM499 and RM600 packages are definitely not cheaper than our price. The third result is a tricky one. Beware of the RM200 price which is only referring to the yearly hosting plan, not including domain name or any web design services. Newbies would have contacted them and later found out that it doesn't match their budget.
Yes! We have the Cheapest Web Design Malaysia Price!
With only RM200, we cover everything you need for a website. RM200 includes 5-Page Web Design services (normally 5 days service time), a domain name of your choice (www.yourname.com) and a shared hosting plan for a year from Siteground. You will then have the choice to continue or discontinue the plan for the subsequent year for RM200. It's a No-brainer, RM200 / 365 days = Only 55 Cents a Day!
Is the RM200 Web Design Package Complete?
If you are a small to medium company, a blogger, a startup, this web design package is probably enough for you. The package includes the 5 Most Important Pages that every website should have: a Homepage, About Us page, Services/Product page, Portfolio page, and the Contact Us page.
Beautiful Web Design Crafted with Love using Divi
Divi is powered by the Divi Builder, an insanely fast and incredibly intuitive front-end editor like nothing you have seen before. This speeds up the web design process and enhances the way we build websites. Divi license itself costs us $89 per year, but now we are installing it on your website for free. << Affiliate Link
Wordpress as the Content Management System (CMS)
Make no mistake, WordPress may be a beginner's playground, but some of the biggest brands on earth trust WordPress with their online presence. CNN, Forbes, TechCrunch, UPS, Sony, BBC America, and Mashable are among the names on that list. Wordpress is flexible, expandable and of course extremely beginner-friendly. You don't require an IT degree to handle it.
Do You Rank Websites on Google? No.
To be completely honest, we do not rank websites and not intend to do so. Ranking website to the top of Google search results is not our duty and not within our control. The reason a website is ranking because it matches Google's goal/objective, which is "Organize the world's information and make it universally accessible and useful."
We Design Website Which is Helpful to Your Audience
If you want your website to be featured on the first page of Google, it must be the best result of all. Just like our website Skeneur, we are ranking on Google because we provide one of the best value in the industry (I believe). Thus, our web design here in Skeneur focus heavily on your website structure and content writing that benefit your audience and potential customers.
We Design Website that Ranks Organically
We will submit a sitemap of your website to Google so that they know your company or business presence. With that, Google will start to show your website in the search results. With our latest on-page Search Engine Optimization (SEO) techniques, your website will eventually rank to the top of the search results organically.
This is a Time-limited Offer That Suits All Small and Medium-sized Enterprises (SMEs) / Startups in Malaysia.
⬆ Check out what's possible! Here is a Standard Services Website example.
The RM200 Web Design Package is only for the first 10 Persons who approach us for a website.
Working with Simon is absolutely great! He understands his clients very well. His web design styles are simple, beautiful, creative, and effective. I absolutely recommend working with him!

Highly recommended! They complete our company's website design in a timely manner and also constantly provide ideas and suggestion in order to help our business to be successful.

The service provided is excellent! Super fast response! Mr. Simon has a great personality and easy to communicate with. Being so professional, yet friendly and helpful.

It's a great experience to work with Simon. He is very professional, efficient and very helpful throughout the development of our website. Highly recommended service!
Together, we build a successful website
One doesn't simply set up a website just for fun. We maximize your business online appearance and outplay your online competitors, we will design a website that provides ultimate user experience, and of course we do all this to help your business grow and shine.
To achieve all the above, we need to work together. We will listen to you and suggest the best! Not to afraid of giving us any feedback or comments. Any ideas and suggestions are welcomed here in Skeneur.