IBKEEO Wechat Merchant 8.0 Business Model is slightly different from others MLM schemes in the market which normally require hard selling techniques and weeks of education. The brand focuses very much on its Wechat referral recruitment system and a simple MLM scheme which is capped at three levels only.
Perhaps you're wondering what the heck is IBKEEO. But even before we start, let's have a quick recap on the topic MLM. This is a very sensitive topic to many people in Malaysia, especially to those who have heard of Amway or Nu Skin.
If you are in a rush, play the short video (in Mandarin) below:
What is MLM?
Multi-level marketing (MLM) is also called network marketing or referral marketing. It is a marketing strategy for the sale of products or services where the revenue of the MLM company is derived from a non-salaried workforce (also called participants, and variously known as "salespeople", "distributors", "consultants", "promoters", "independent business owners", etc.) selling the company's products/services, while the earnings of the participants are derived from a pyramid-shaped commission system. – Wikipedia
Is this a pyramid scheme (illegal)?
First, network marketing isn't a pyramid scheme. Pyramids are programs similar to chain letters where people just invest money based on the promise that other people will put in money that will filtrate back to them and somehow, they'll get rich. A pyramid is strictly a money game and has no basis in real commerce. Normally, there's no product involved at all, just money changing hands. Modern-day pyramids may have a product, but it's clearly there just to disguise the money game.
Is it a scam?
Network marketing is a legitimate business. It is based on providing people with real, legitimate products they need and want at a fair price. While some people do make a lot of money through network marketing, their financial benefit is always the result of their own dedicated efforts in building an organization that sells real products and services.
---
What is IBKEEO?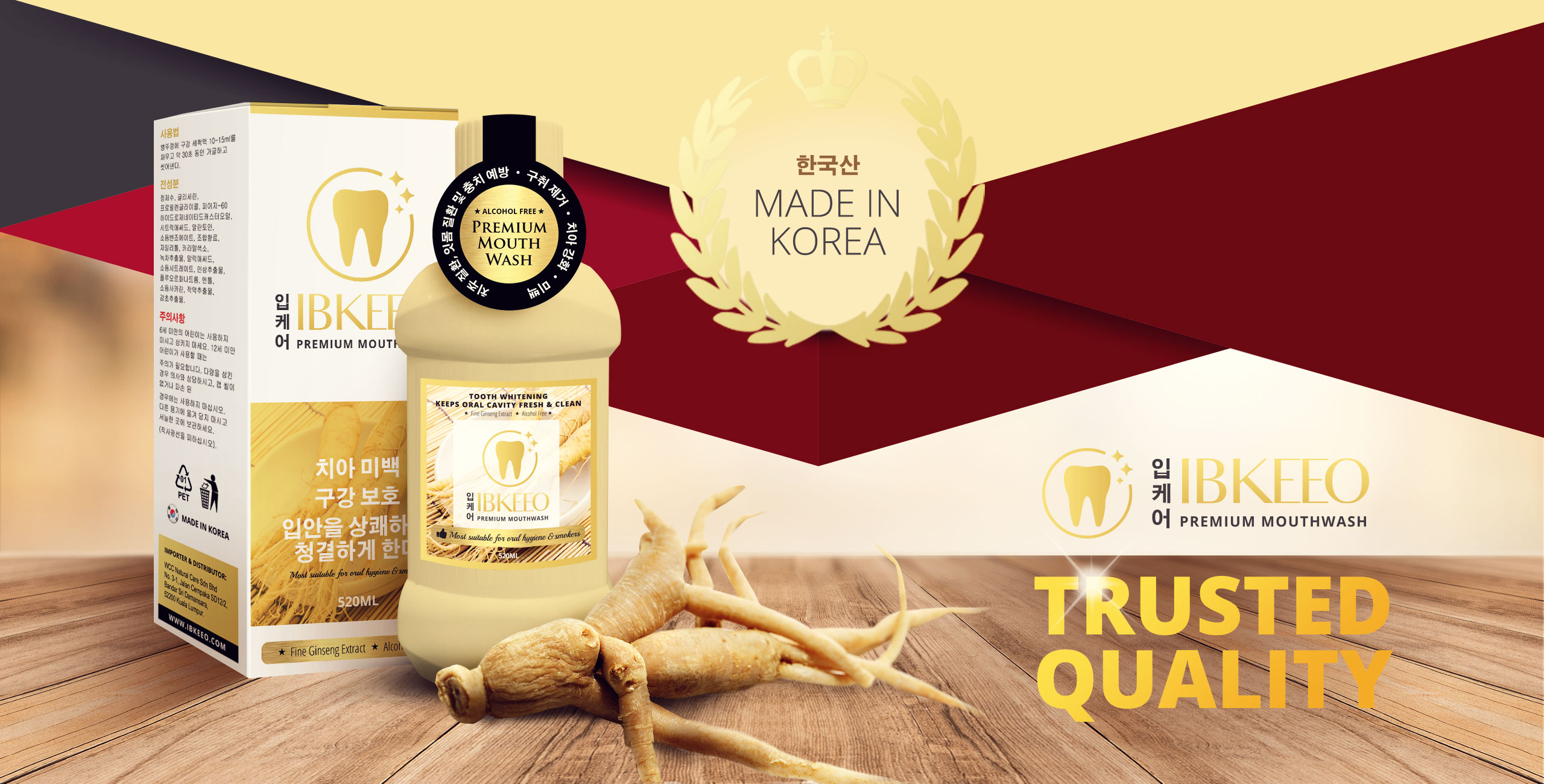 IBKEEO Premium Oral Hygiene Mouthwash is a Korean Brand Premium Mouthwash, enhanced with quality ginseng extract, white peony (an active antibacterial ingredient, preventing the growth of bacteria), tea tree (helps to remove protein leftover in the mouth and eliminate bad breath) and licorice (activates salivary glands, prevent dry mouth, cleans oral hygiene). – IBKEEO.com
IBKEEO is Not Cheap
In my opinion, after comparing all different kinds of mouthwash available in Malaysia (like Listerine, Oral-B and Colgate) the price of a bottle of IBKEEO premium mouthwash is definitely not cheap. A bottle of 520ml of IBKEEO is sold at the price of RM98 including shipping cost in West Malaysia and RM108 in East Malaysia.
A bottle of 500ml Oral B Prohealth Non-Alcohol Freshmint Rinse will cost you around RM20 including delivery cost. The bottle of 750ml of Listerine Cool Mint Mouthwash costs RM30 while 2 bottles of 750ml Colgate Plax Peppermint cost RM37. On average, the price of a 520ml bottle of mouthwash will cost a typical Malaysian in between the range of RM13 – RM21. Thus, the price of IBKEEO at RM98 is 87 – 79% higher than its rivals in a typical online Guardian store.
Therefore, if you were to ask me whether is it easy to sell a bottle of IBKEEO? Based on the average market price, the answer is probably "no". It is not easy to convince a typical Malaysian to gargle their mouth with a premium mouthwash which is 87 – 79% more expensive than a typical well-known brand mouthwash that can be easily found in local stores. What's more, the main factor that Malaysians consider when shopping online is the price.
---
So, is IBKEEO Worth The Price?
Luckily, a customer's perceived value of a product has very little to do with its actual market price. The value of the product is driven by its ability to meet a customer need or want (or benefit). There is a very simple equation used to express the relationship between value perception variables: Perceived Value = Benefit/Price. In other words, if you convince customers that your product's benefits are much more valuable than the monetary asking price, then they will buy it.
First of all, IBKEEO is a safe product. It is approved by the Health Ministry of Malaysia (NOT170503235K) and authorised by Korea's KFDA ISO-22716 (safety & health division). Source
Product Effectiveness – Try it!
Secondly, considering none of the mouthwash in the market can pass the "petai test", the IBKEEO mouthwash is ahead in terms of its product effectiveness. The non-alcoholic and gentle sensation of IBKEEO mouthwash also solves the terrifying feeling of gargling harsh chemical in your mouth. The unique Ginseng taste of IBKEEO mouthwash is a plus for those who like ginseng/herbs (of course this is not everyone's cup of tea).
Thus, it is definitely worth to try IBKEEO "at least once" in your lifetime, especially for those who are struggling with oral health problems like bad breath, mouth stink and tooth decay caused by bacteria.
Beyond Mouthwash – Make Money with IBKEEO
IBKEEO is not just about solving your oral health problem, it also helps you make money online via a pyramid-shaped commission-based system.
Recently, the Wechat Referral System has been integrated into the selling of IBKEEO in Malaysia, which is considering one of the very smart moves of utilizing Social Media platform and its online resources.
---
IBKEEO Wechat Three-level Marketing Online Business Model
How Does It Work?
The IBKEEO Wechat Merchant 8.0 Business Model is set up to be integrated with a simple online MLM scheme, where you can be a referral immediately after you purchase your very first bottle of IBKEEO. You will be provided with a Merchant ID and a QR code in a few seconds after your first purchase through the system. With that, you will be able to start earning pocket money through the pyramid-style (capped at 3 Levels) commission scheme of Wechat referral system.
1. You Need to be an IBKEEO Referral, but How?
Alright, the very first step is to download Wechat app (Google Play Store / IOS App Store) if you haven't had one installed on your smartphone. If you already installed Wechat app on your phone, long-press on the QR code above and save it to your phone. Open Wechat App, scan the QR code from the image and it will bring you to the IBKEEO Official Wechat Merchant Page (btw, this is my merchant referral QR code). When you reach the merchant page, visit "E-Mall" and scroll down to the bottom of the page. You are required to purchase a bottle of IBKEEO (RM98 RM78 Promotion Price) in order to activate your IBKEEO referral account. Of course, you can buy more, but you will only be entitled to one referral account per Wechat.
2. Get your IBKEEO Referral QR code and Start Promoting
Once you purchase a bottle of IBKEEO through the system, you will be automatically recruited as an IBKEEO referral immediately. You will be provided with a unique Merchant ID and a QR code. Now, you can start promoting the product (or the IBKEEO Wechat Marketing scheme) to your friends and family. Remember, the most important thing is to share your very own personal QR code to your referrals. This is to ensure that every bottle of IBKEEO mouthwash purchased through your recommendation will be recorded under your Merchant account.
Theoretically, based on our analysis, you can target two groups of people. As discussed earlier, the first group of people you want to promote to is the people with oral health problems. They are very likely to buy from you (at least once) in order to experience the brand new Premium Mouthwash, hoping that this will be the solution to their oral health problems. Use the following video to convince Namewee fans!
The second group would be those who want to earn extra side-income (just like you, isn't it?). With these people, you should be promoting the IBKEEO Wechat MLM system rather than the product itself. These people might not have any oral health problems, but they are hungry for money. These are likely to be entrepreneurs and business-minded individuals who are actively seeking for multi-streams of opportunities and do not settle for just a single source of income.
3. Do your Maths and Wait for The Miracle
IBKEEO is implementing a Three-Level Marketing system, where you collect the commission as per below:
| | |
| --- | --- |
| LEVEL | Commission |
| 1 (your direct referrals) | 15% |
| 2 (Referrals of your Level 1 referrals) | 8% |
| 3 (Referrals of your Level 2 referrals) | 7% |
For example, let's say after you try IBKEEO and you really like it. You share your QR code to your friends and family. If ten of your friends and family members give it a try and buy a bottle of IBKEEO through your QR code, you will be paid a commission of (10 x RM98) x 15%, which is RM147. You will now have ten LEVEL 1 referrals under your merchant account.
IBKEEO is a good product (the MLM system is great too), so I believe your friends and family will definitely share it with their friends. For instants, let's say ten of your LEVEL 1 referrals successfully recruit another ten of their friends to join the IBKEEO Wechat referral system, you will now have a hundred members of LEVEL 2 referrals under you. With that, the commission you will be receiving would be (100 x RM98) x 8%, which is RM784.
When your LEVEL 2 referrals successfully recommend ten of their friends and family to join the system, you will have one thousand LEVEL 3 referrals under your merchant account. At this point, you will be receiving a commission of (1,000 x RM98) x 7%, which is RM6,860.
---
How Is IBKEEO Different from Other MLM Schemes?
Early in the paragraph, we stated that IBKEEO Wechat Merchant 8.0 Business Model is slightly different from others MLM schemes in the market mainly due to the following:
No annually charged referral/agent fees. Once you purchase a bottle of 520ml IBKEEO Mouthwash through the Wechat system, you will be automatically entitled to be an official IBKEEO referral.
Only one product to promote. Currently, there is only one product offered by the company, which is the one and only IBKEEO Ginseng Premium Mouthwash. – December 2018
IBKEEO MLM referral scheme is capped at three levels only. The downlines of your LEVEL 3 referrals and beyond won't be counted for commissions.
What is Not Good about IBKEEO Wechat Merchant 8.0 Business Model?
Monthly commitment. You have to commit to buying at least one bottle per month in order to continue your agent activation period for commission collection. You can either

activate a 1-month referral program by purchase 1 bottle of IBKEEO for RM98, or
activate a 3-month referral program by a bulk purchase of 3 bottles of IBKEEO for RM225 (RM75 per bottle), or
activate a 12-month referral program by a bulk purchase of 12 bottles of IBKEEO for RM816 (RM68 per bottle)
In order to beat the activation fees, there are multiple strategies and calculations on how many referral downlines you need to achieve per month.
For example, if you get the 1-month activation period using RM98, you need to get at least 7 direct downlines to purchase IBKEEO in the first month in order to cover your activation fees. 7 x (RM98 x 15% = RM14.70) = RM102.90
See the video below for detailed explanation.
---
So, what are you waiting for?
Scan the QR code below using your Wechat app and get started right away!
Still not sure how to participate in this referral program?