Here is the question:
I want to do something online, whatever it is, but I would prefer marketing task. I would be grateful if you could help me out with this. Thanks
The quick answer to the question is: "Something online + marketing task = Online marketing."
Online marketing, also known as internet marketing is the process of promoting a business or brand and its products or services over the internet using tools that help drive traffic, leads, and sales. Online marketing includes Search Engine Marketing (SEM), content marketing, social media marketing, affiliate marketing, email marketing and many other forms.
Most people wanted to start an online business that could create passive income. The ultimate goal is to build online businesses that take advantage of systems of automation that allow transactions, cash flow, and growth to happen without requiring a real-time presence. In other words, we don't want to trade time for money.
However, if you ask me what is the cheapest way to start an online marketing business (at the same time fulfilling your passive income ego), I would suggest building an affiliate website and begins your affiliate marketing journey.
And yes, affiliate marketing is one of the world's most untapped online business opportunities for generating passive income.
Affiliate marketing is the process of earning a commission by promoting another person's (or company's) product. Products exist in your target market right now (that people are probably already buying) and if you can become the resource that recommends those products, you can generate a commission as a result. It's sort of like earning a reward for sending a new customer to a company.
3 Simple Steps to Make Passive Income via Affiliate Programs
1. Build an Affiliate Website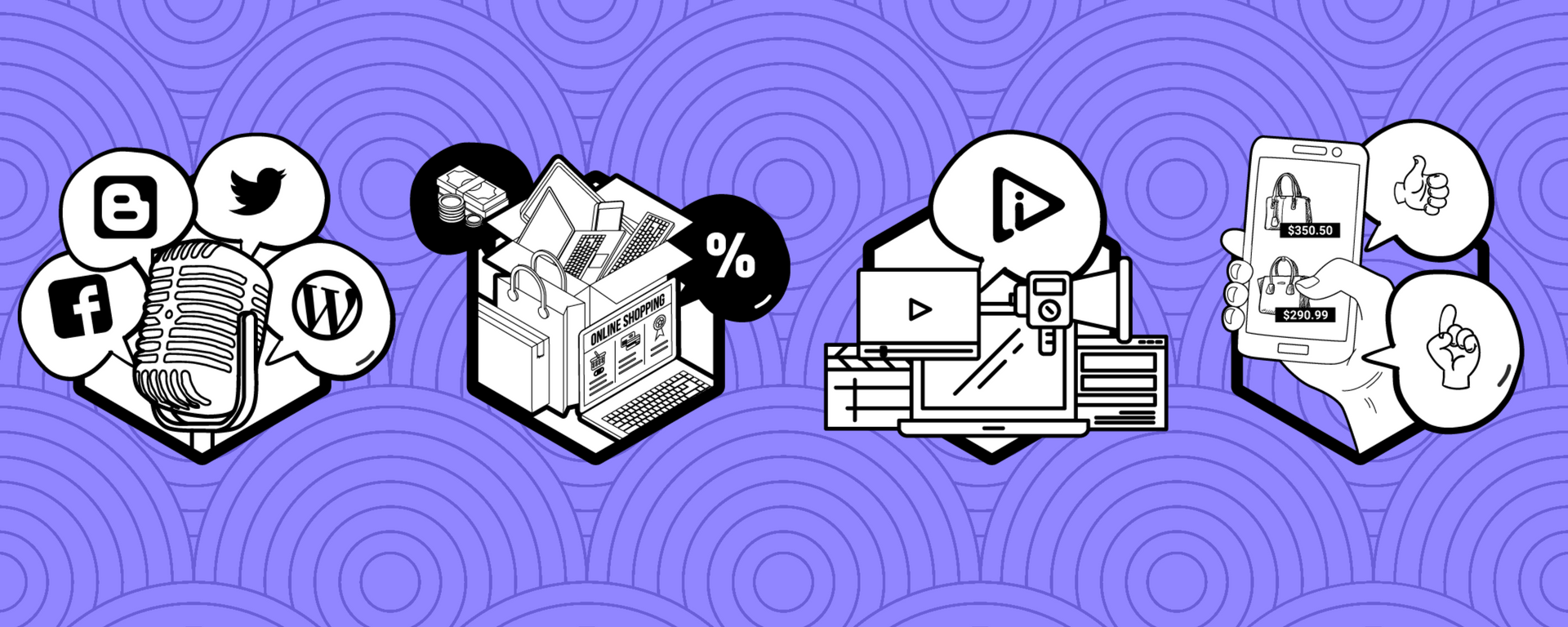 First of all, you will need to have a website. A website is the first essential of any profitable passive income business done online. You can choose to build a coupon or cashback site, price comparison site, news and information site and similar. For newbies, I would suggest starting just with a personal blog (simple and easy).
Blogs
A blog (shortening of "weblog") is an online journal or informational website displaying information in the reverse chronological order, with latest posts appearing first. It is a platform where a writer or even a group of writers share their views on an individual subject. – Definition by firstsiteguide.com
It is recommended to start a personal blog where you can promote any products and services that you like. You can earn additional income from your audience by integrating your blog with affiliate links later on.
Coupon & Cashback Sites
Coupon and cashback sites help people to save money and time. You can start a website offering coupons or resources where people can get daily deals or discounts when they purchase online.
Today, it is difficult to start a general coupon site, especially in the competitive coupon and daily deals online market. Instead, pick a market or niche that you are good at. It could be anything, for example, a health and wellness online store.
News & Information Sites
If you are an up-to-date person, having a good source of latest information with you, why not start a news and information site. You don't need a huge team that comprises of a web developer, a product manager, content managers, photo editors and a web strategist, like The Star Online or theSundaily.
You can simply be the news reporter, manager and director of your housing area yourself. Get a camera out there, do your due diligence, and report the most accurate and verified news and information in your community. You can always expand your team later on.
Product Comparison Sites
Product comparison sites is a website that compares the price or features of a particular product or service in different stores or from different companies online. People tend to visit product comparison sites before purchasing anything online simply because they want to get the best deal (or maybe the cheapest deal).
Having a price comparison site is definitely a good way to generate traffic as the number of online consumers is on the growing trend these days.
2. Sign up for Affiliate Programs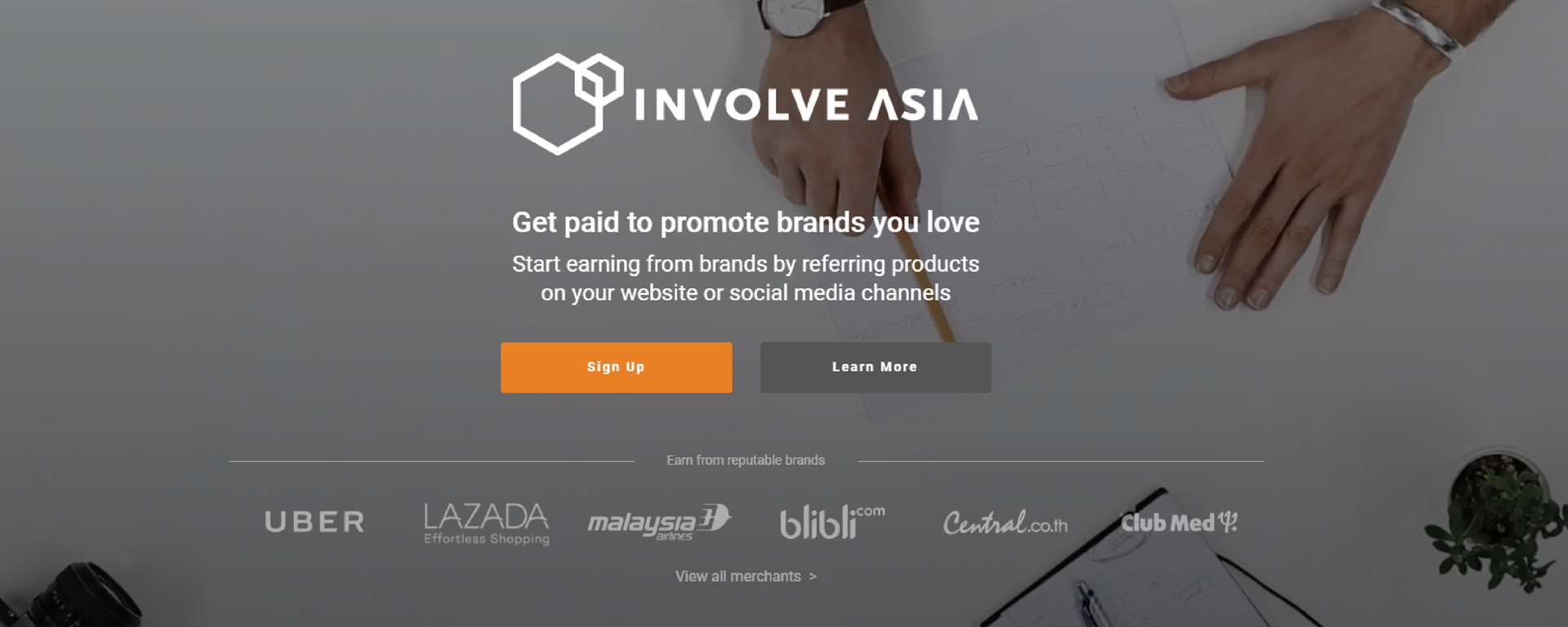 There are tons of affiliate programs available for you to join out there. In this article, I'm going to recommend the Involve Asia Affiliate Program due to several reasons:
First of all, it's FREE to join. Click here to sign up immediately.

You will gain unlimited access to over 500 merchants across the region.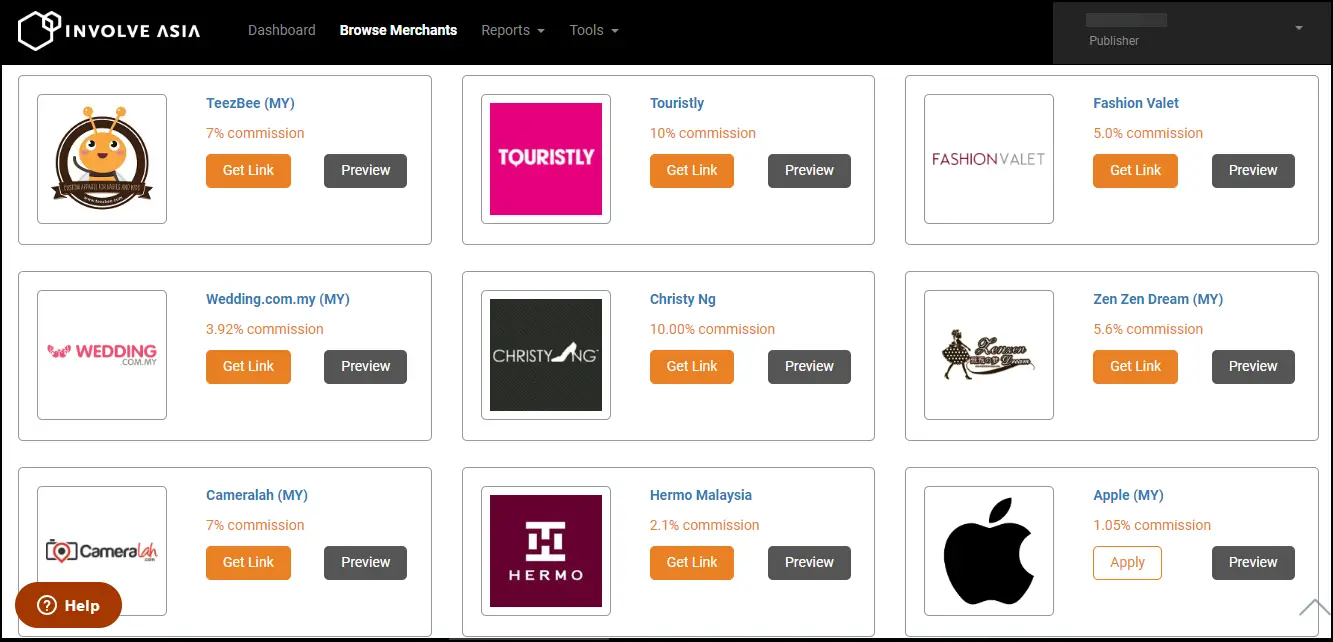 Up-to-date promotions and coupon codes will be updated daily on their system.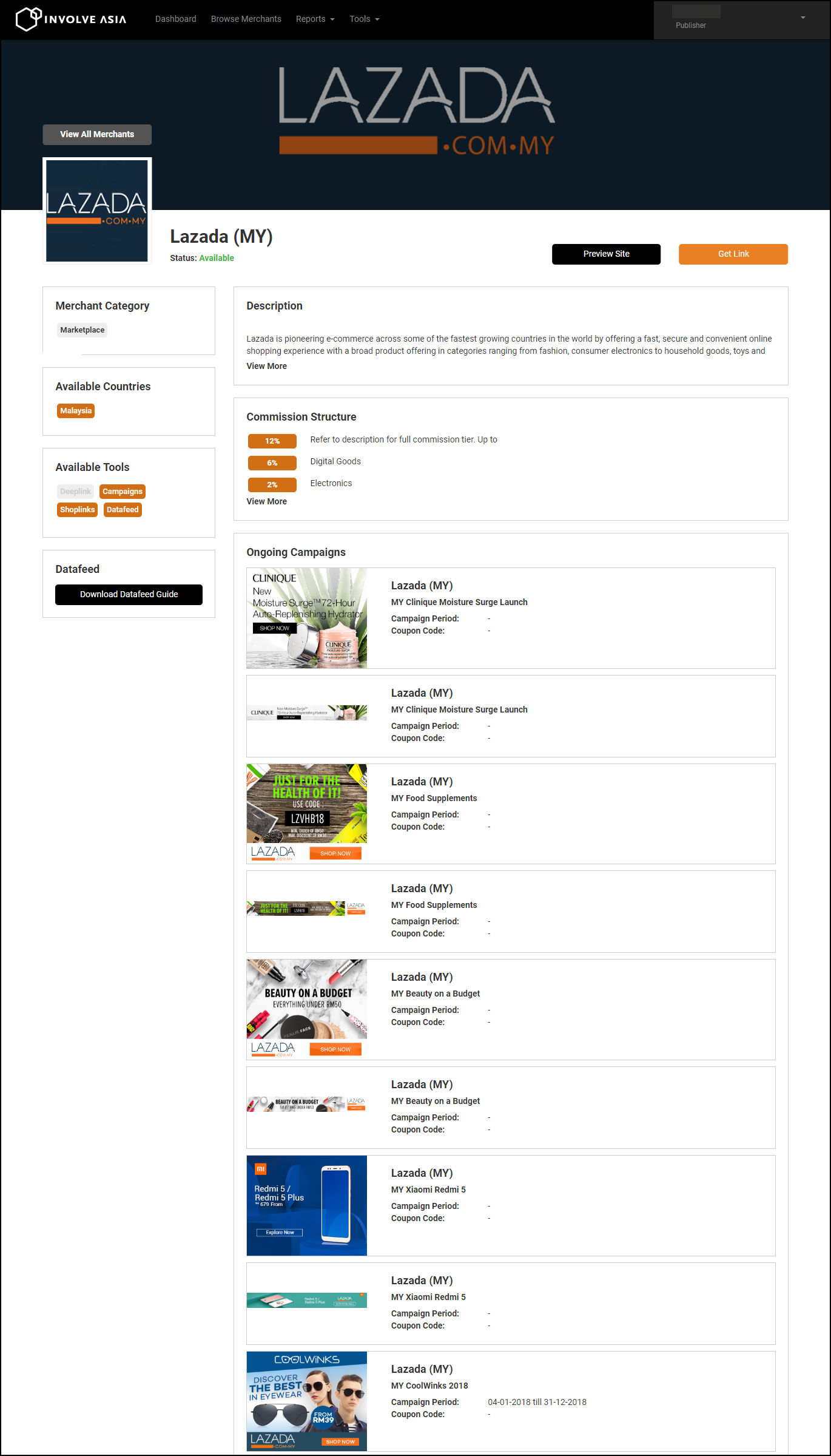 It has tools to automatically turn keywords into affiliate links and this will save you time and effort (It's called Shoplinks).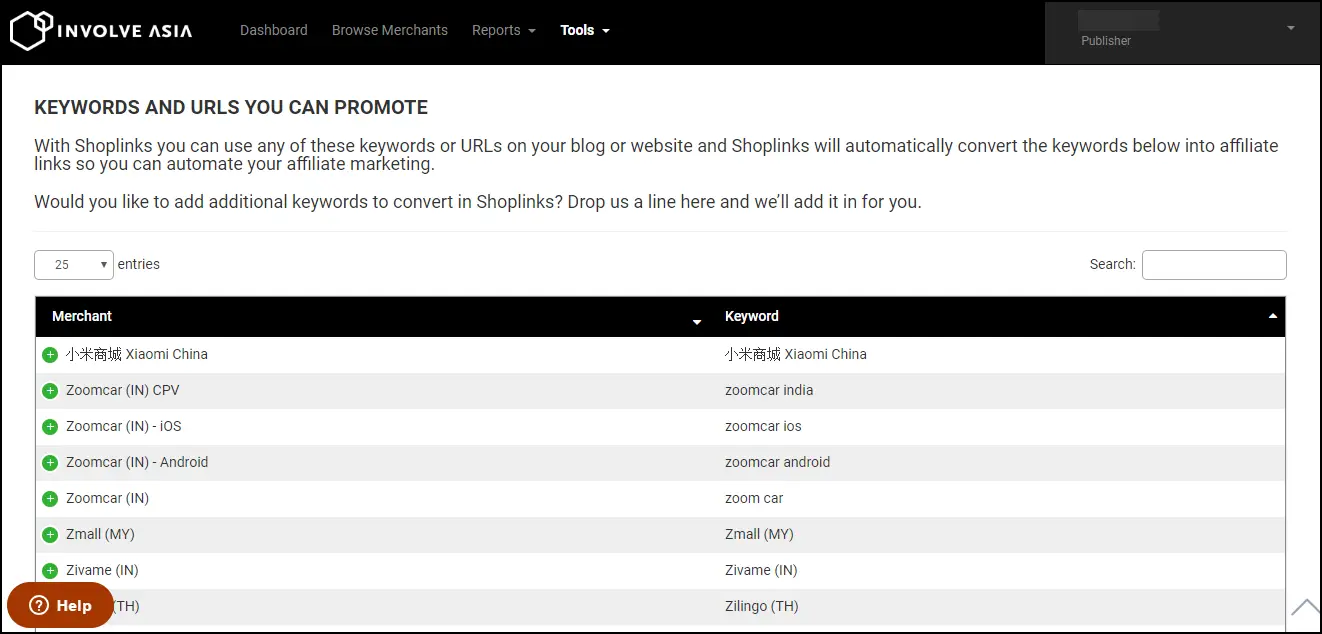 Accurate Reporting and Prompt Payouts. You can track your affiliate link's real-time performance on your dashboard and never wait too long to get paid (all confirmed commissions are released on Wednesday).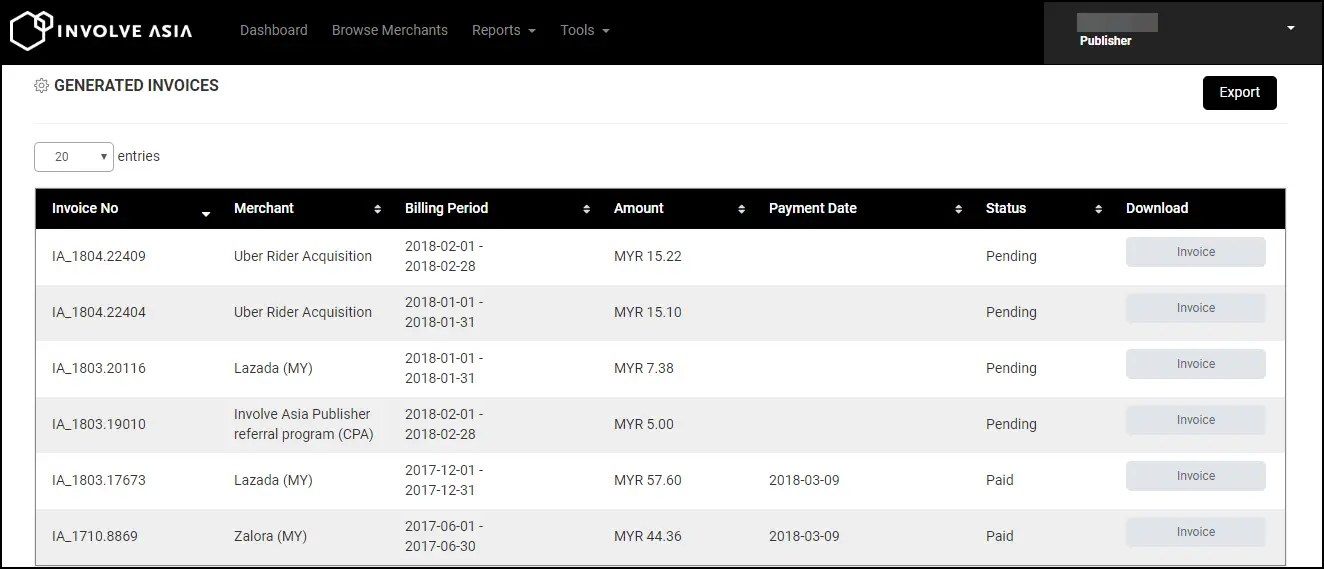 3. Integrate Affiliate Links into your Website
Once you have signed up, upon confirmation, you will be able to login to your publisher account.

You will find your preferred merchants here.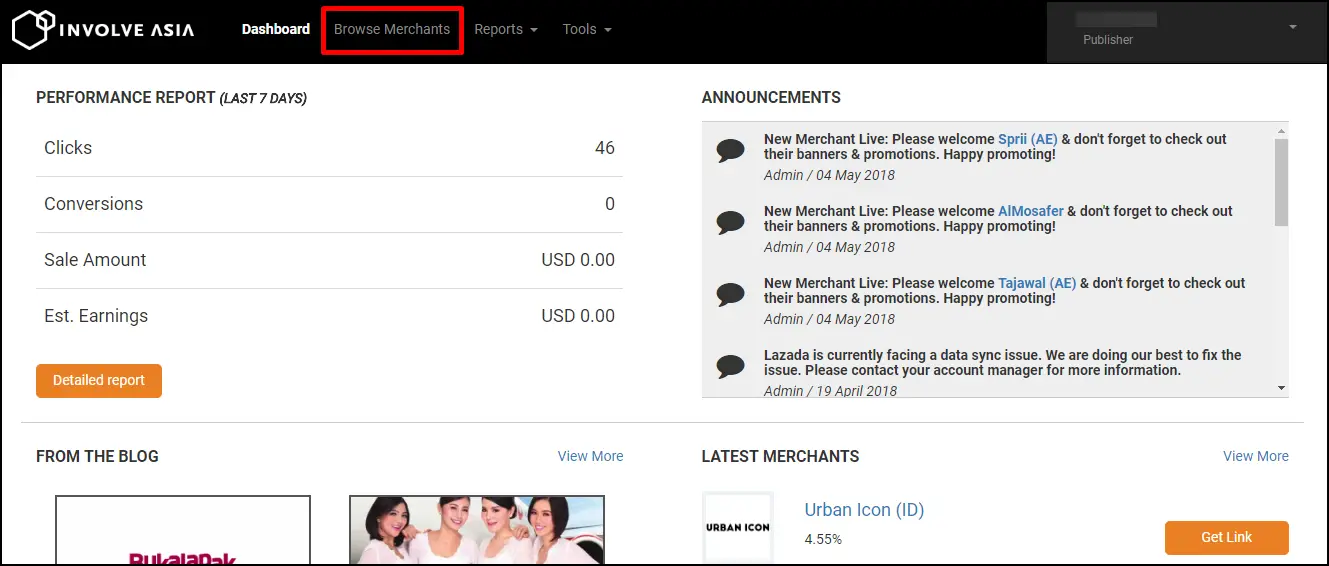 Select the merchant that you want to promote from the list.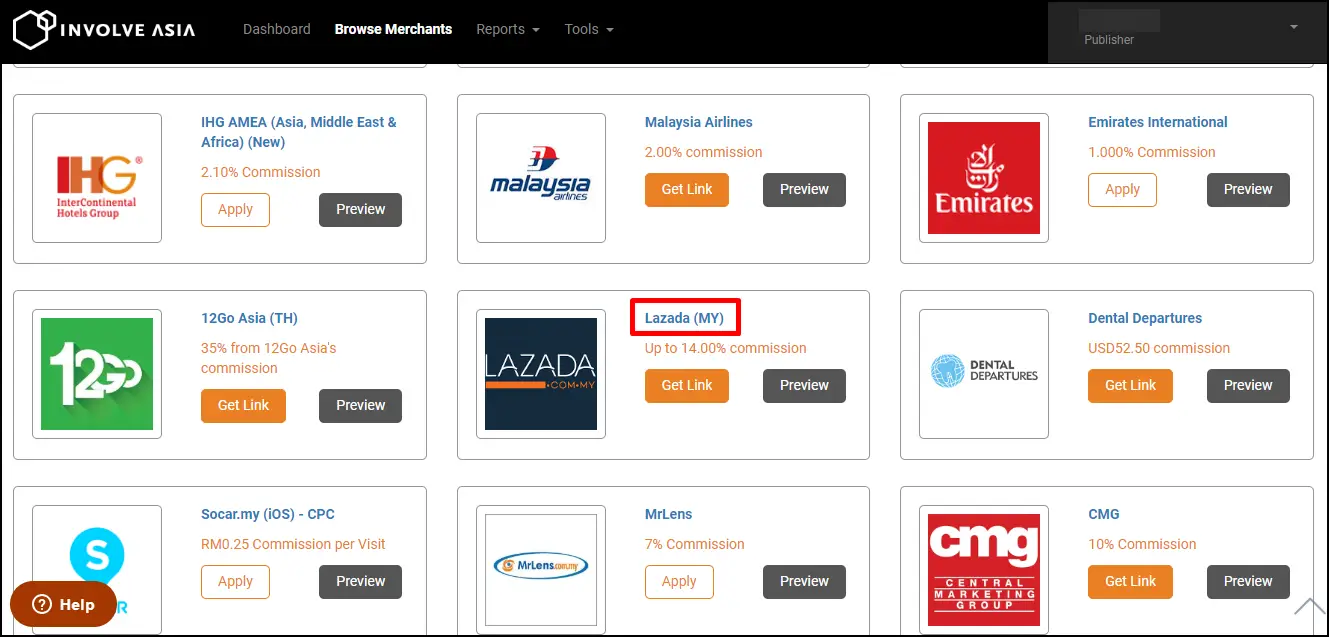 You can now read the details of commission offered by the selected merchant (in this case, Lazada).
Next, click on the Get Link button: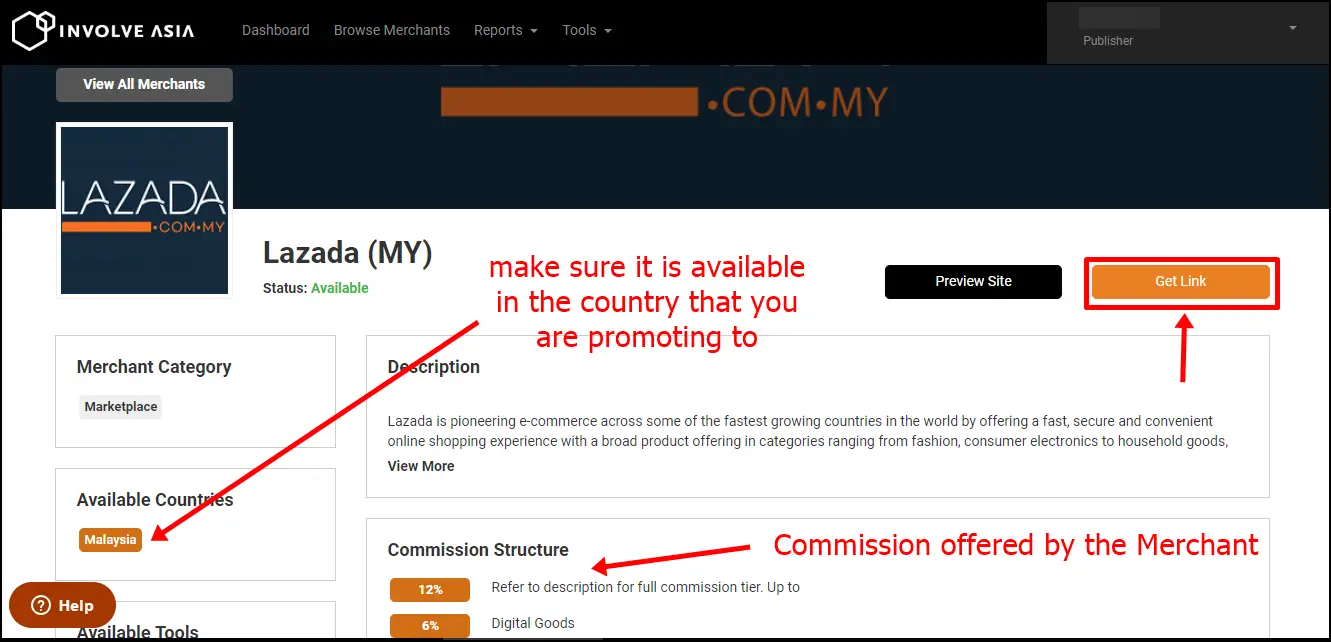 A pop-up window will appear when you click on the "Get Link" button:
Insert any URL from the merchant site. In this case, I grab the Lazada homepage.
Click to generate your unique affiliate link
Copy your affiliate link and you are ready to go.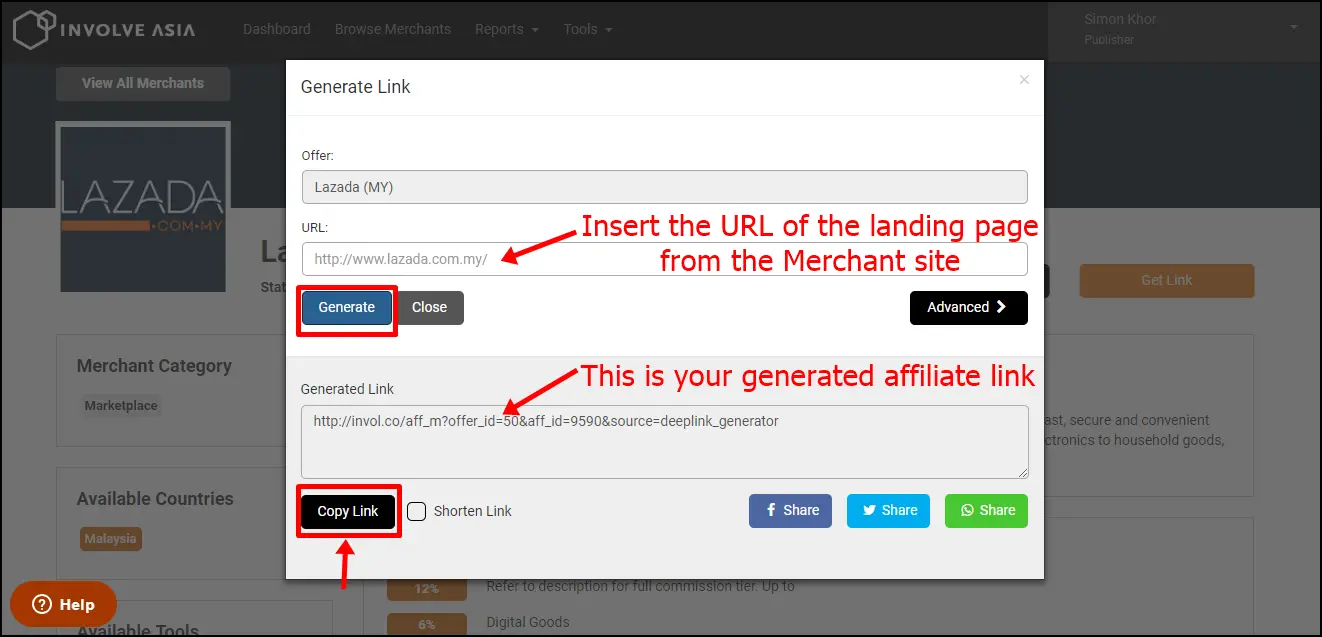 Now, you can send people to your affiliate merchant landing page through your affiliate link. If it happens that people are purchasing from the merchant site, you will get a commission from it. You can track your affiliate link performance and payout in the Involve Asia Affiliate Dashboard.
---
That's all for today. I hope you can get a quick view on how to earn money from an affiliate program like Involve Asia.
So, what are you waiting for?
Get started and Sign up as a Publisher of Involve Asia today!
If you have more questions, feel free to comment below or send us a message.