If you haven't had your business registered on Google Map, you should keep reading.
Today, I will show you step-by-step regarding how to list your business on Google Map.
Bonus, I am also going to highlight a few Search Engine Optimization (SEO) tweaks that you should know in order to improve your local business presence on the internet.
Steps:
1. Sign into Gmail Account & visit Google My Business Website
First, visit the website Google My Business. Click on the "START NOW" button to get started.
Make sure that you are signing into the correct Gmail account of your Company before you click on the "START NOW" button.
2. Name your Business With This Formula
Next, Google will ask for your business name. This is the very first step and this is also where lots of company failed in naming their business.
The best formula is to name it this way: "Company Name" "Product/Services" – "Location"
For example, Casey Hair Saloon Kuala Lumpur
The reason is obvious, who want to tell people about your Company Name and also the product/services that they are searching for on the internet.
The naming of the "Location" part is kind of important if you are in the service industry because people will definitely type in something like "plumber in Bukit Bintang" rather than just a general term "plumber".
However, based on Google recommendation, you should only fill in your business name on the blank and there should be no marketing taglines, services or product, location or containment information. This is subjective because one could include these when naming your business or company. If you check through Google Map, you will find that the naming that I recommend is not penalized and for SEO reason, they actually give your customers the best info, and thus most of the listings are ranking on the top positions.
3. Make Sure you Have An Address
You will require to have an address in order to be featured on Google Map. Fill in the Country/Region, Street address, Village/Township, Postal code, City and State accurately.
If you are providing goods or service delivery to your customers, make sure you check on the box that states "I deliver goods and services to my customers." Then you will be able to further pick the locations that you will deliver to.
4. Google Business Matching
To avoid duplicating business listing on Google Map, Google will display a list of businesses that look similar (or Google thinks that it is similar) to your business that you are creating.
If you find your business on the list, open Google Map and check the business details on the map. If the business described is yours, select the business and Google will allow you to improve your listing.
However, for most of the cases, especially when your business is new, nothing will match your business, and you should select "This doesn't match" option.
5. Google Business Exact Location on the Map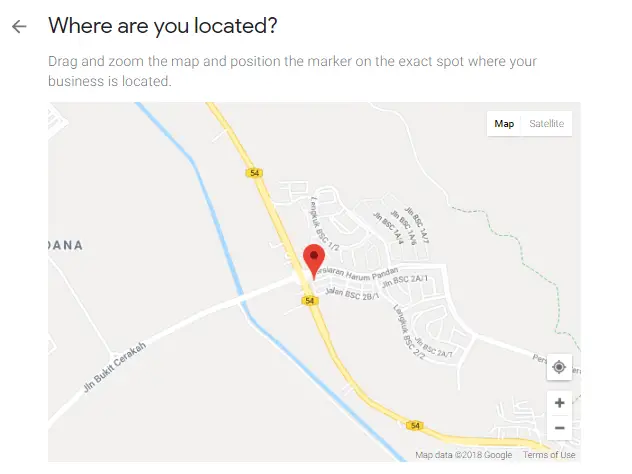 This step is particularly important, make sure you have a sense of "map knowledge" before you proceed. You might want to ask someone to guide you if you don't really know how to read a map.
If your address is correct and understood by Google, a red marker will be automatically placed on the exact spot/location on the map.
However, in some cases, especially when your area is not well indexed in Google Map, you will need to zoom into the map, find your exact location, and drag the red marker to the exact spot where your business is located on the map.
This step is very important because Google will forward all traffic and direct them to the exact location spot on the map (even if your address is unknown).
6. Choose your Business Categories
Google suggests using as few categories as possible to describe your overall core business from the provided list.
This is to avoid any misleading or confusing information and make sure that your business listing is as accurate as possible.
I suggest you include all related services in your Business Category to help describe your business better, however, make sure that these are the services that you provide and do not attempt to put in any category that is not related.
7. Google Business Contact Details
Next, insert your company or business phone number (not your personal phone number). This will be displayed on Google Business listing for your customers.
Make sure you include the website URL too. If you do not have a website, why not create one with Skeneur. We have the best Web Design Malaysia package in the country. We offer the cheapest, most complete, beautiful, and ready to rank on Google website for you, check it out!
If you are not ready to create a website, make sure you put in the Facebook Page URL into the "website" blank. Check out how you can create a Facebook Page here.
8. Finish and Verify your Business
Last but not least, finish and verify your business listing.
A postcard will be sent to your business address within 14 days. You will find the verification code and instructions on the postcard from Google.
Have you listed your Business on Google?
Let me know if you have further questions related to Google Business listing in the comment section below.